Director's Letter: Spring 2018
Dear Friends,
I hope you are enjoying the beginning of spring and looking forward to Autism Awareness month. We will be posting several stories and highlights on our Facebook page (www.facebook.com/fsucard) during the entire month of April, so be sure to follow, like, and share.
We have some exciting opportunities coming up and hope you enjoy reading all about them.
We still have FREE codes to the Autism Navigator® How-To Guide Course for Families give away.
Our partnership with the National Flight Academy at NAS Pensacola is expanding and offering new adventures for teens on the spectrum.
The 2nd Annual Kickin' It for Autism Inclusive Soccer Clinic is set for April 28th in Tallahassee.
May the 4th we will be channeling our inner Star Wars characters as we partner with the Tallahassee Barnes and Noble to host a fun evening of crafts and stories while raising funds for FSU CARD and the FSU Autism Institute.
Registration for the 2018 Summer Training Institute is almost open. Please save the date for June 18-20, 2018.
Don't miss the recap of our Employment week from February 2018 featuring Jim Sinnochi from JPMorgan Chase and Boaz Nelson Santiago from Picasso and Einstein, LLC. Both shared messages of harnessing the strengths and abilities of all people and matching strengths to job opportunities.
Hope to see you at one of our many events!
Sincerely,
---
Features

Free access to the Autism Navigator® How-To Guide for Families
FSU CARD is pleased to continue to offer free access to our CARD families with young children not yet old enough to enroll in kindergarten to the online Autism Navigator® How-To Guide for Families course.
This self-pace course will teach parents and caregivers how to use strategies and supports in their everyday activities as well as provide them with access to a variety of "tools" to chart their child's developmental growth and monitor meaningful outcomes.
This online course is full of video libraries to illustrate how to promote learning and development of their child with ASD.  For more information about the Autism Navigator® How-To Guide for Families, please visit the website.  If you are a parent of a young child who is registered with FSU CARD and would like to request a code to the How-To Guide for Families, please click this link.
Weekly Guided Tours
In addition to the online course, parents that enrolled in the How-To Guide for Families, will be invited to join a weekly meet-up (a Guided Tour) where parents will have the opportunity to interact with other families with similar issues from the convenience of their computer, phone or tablet. We hope to start the next CARD facilitated How-To Guided Tour in April or May 2018, so be sure to request and enroll in the course soon. To request a code, click here. Once your code is redeemed, you may be invited to join the Weekly Guided Tours.
Extended Features

FSU CARD teams up with Barnes & Noble in Tallahassee!
May the 4th be with you! FSU CARD has teamed up with Barnes & Noble for a week of book fair fun! During the week of May 4th-May 10th, Barnes & Noble will conduct an online book fair benefiting FSU CARD. Teachers, if you would like to submit a classroom book wish list, we will include the information and encourage supporters to purchase wish list items to donate to you.
On May 4th, join us at Barnes & Noble (2415 N. Monroe St, Tallahassee, FL 32303) from 4:00 p.m.-7:00 p.m. for Star Wars fun! Come dressed as your favorite Star Wars character! We will have Star Wars-themed crafts and photo ops-you never know who will show up! A percentage of the purchases made during the event will be given to the FSU Autism Institute.
Hope to see you there!


---
Articles

Can You Kick It? (Yes, You Can!)
By: Taylor Fabrega
We are getting geared up for our Second Annual "Kickin' It for Autism" Soccer Clinic on Saturday, April 28th at the FSU Soccer Complex! Participants will learn new skills or sharpen existing techniques with the FSU soccer team and coaches! The clinic is open to athletes of ALL ages, abilities, and experience. The registration fee (see flier for pricing) includes a shirt (while supplies last), prize ticket, and refreshments at the event. All who attend need to wear athletic shoes, and bring a clearly labeled water bottle. The soccer clinic will take place at the FSU Soccer Complex, so don't forget your sunscreen and to dress accordingly for whatever the weather may hold!
Onsite registration will take place beginning at 9:15 AM the day of the event. From 10:00-11:30 AM, participants will have the unique opportunity to get schooled by college athletes and their coaches. After scoring goals on the field, participants can then cool down and score some autographs! At last year's event, many special guests from other FSU athletic teams stopped by to show their support… we can't wait to see who shows up this year! Our action-packed day will conclude with prize drawings at 12:15 PM. There is no better way to be a part of Autism Awareness month this April than by joining us for a day of fun in the sun as we kick it for Autism!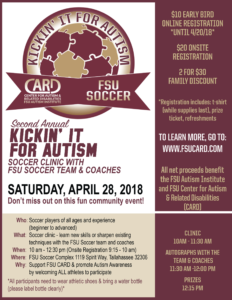 Join us for our second annual Kickin' it for Autism Soccer Clinic!
SPONSORSHIP OPPORTUNITIES: 
Thank you for your interest in becoming a sponsor of the Kickin' It For Autism Soccer Clinic! All sponsorship forms for the 2nd Annual Kickin' It For Autism soccer clinic need to be returned by April 13, 2018. Please call (850) 644-4367 or email autism@med.fsu.edu with any questions or for more information.
SPONSORSHIP INFORMATION >>
 
REGISTRATION INFORMATION:
EARLY BIRD ONLINE REGISTRATION – $10
The Early Bird online registration will end April 20, 2018 at 5pm (EST).
***Registration includes: t-shirt (while supplies last), prize ticket, and refreshments) ***

REGISTER HERE >>
ONSITE REGISTRATION – $20/person or $30/2 people
Onsite registration will be available the day of the event, Saturday, April 28th.
* All net proceeds benefit the FSU Autism Institute and FSU Center for Autism & Related Disabilities (CARD).
 
FAQs
What are my parking options for the event?
Parking will be available in the garage directly across from the soccer complex, with additional parking in the lot behind the softball/baseball outfield wall.
What can I bring into the event?
A water bottle and athletic shoes are required for participation. Shin guards and cleats are optional. Please clearly label all your items.
National Flight Academy Adventures
By: Dr. Chrissy Ogilvie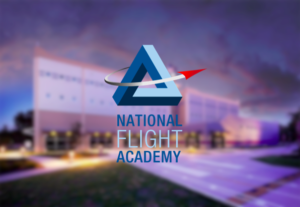 In 2016, Dr. Chrissy Ogilvie, from the Pensacola CARD office, formed a partnership with the National Flight Academy to provide training for their staff to include individuals on the Autism Spectrum in the National Flight Academy (NFA) experience. This partnership developed into working with the NFA to develop curriculum and accommodations / modifications to include individuals with ASD. In summer 2017, the National Flight Academy provided funding for 12 middle and high school students on the Autism Spectrum to attend 6-day "deployments" (overnight camp) as well as funding for 36 middle and high school students to attend 1-day adventures at the NFA.
The experience was very successful for all those involved! This year, in summer and fall 2018, 24 middle and high school students with ASD will be invited to attend the NFA for 6-day deployments and 60 middle and high school students with ASD will be invited to attend 1-day adventures at the National Flight Academy.
The National Flight Academy is investing time and funding in preparing their staff for nurturing growth, learning, and collaborative skills to individuals with Autism. Every staff member will participate in an interactive training designed and provided by Dr. Chrissy Ogilvie from the Pensacola CARD office. The training includes simulations that provide opportunities for the staff to "walk in the shoes" of someone with Autism. A description of common characteristics of Autism will be presented and accompanied by numerous proactive strategies.
In addition to the first-time students, some of the previous participants will be welcomed back to act as peer mentors on the 1-day adventures. For each 1-day adventure, six participants will be students who have never been to the NFA. The remaining 6 students, all of whom have a diagnosis of Autism, will act as peer mentors.
The National Flight Academy is not only promoting learning about STEM topics through a highly experiential camp, but also encouraging individuals with Autism to be leaders. We will be piloting a new program with young adults with Autism who participated in the NFA experience last summer. These two students will be shadowing one of the Chiefs (camp counselors) on our 1-day adventures with the goal to be for them to apply for a position as a Chief the following year.
For more information, please contact Dr. Chrissy Ogilvie at 850-324-6245 or Christine.ogilvie@med.fsu.edu.
Employment Week February 2018
By: Allison Leaztow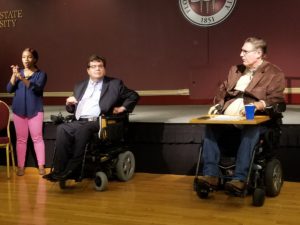 We had a productive week at the end of February focusing on employment of persons with disabilities working in corporate America or pursuing their own start-up company. The more opportunities for work, the greater the independence and quality of life, and less dependence on others. On February 21st, we attended a dynamic talk by Jim Sinocchi, head of the Office of Disability Inclusion with JP Morgan and sponsored by the FSU College of Business and University of Choice. He gave us a unique perspective with a strong focus on people's abilities and a global view of the hiring practice of those with disabilities in other countries. He described how JP Morgan is leading the way to ensure that their workplace reflects the customers they serve. It is not so much about inclusion anymore, as was the trend in the 90's and early 2000's, but more about assimilation into the workplace. Once we can get past seeing the disability and simply seeing that person as another colleague, then we know we have broken a huge barrier. This trend is not only good for people of all abilities but it is also good for the business and the bottom line!
On Friday, February 23rd, FSU CARD brought Boaz Santiago from Picasso and Einstein to come talk about entrepreneurial opportunities for those with disabilities, with a strong focus on the autism community. What do individuals with autism do best? They think differently! Boaz is harnessing that approach in his educational and consulting business to help others begin their own sustainable business based off their strengths and interests. He has coined the Job Creators Movement where he teaches others through in-person trainings, webinars, and one on one consultation how you only need to start with "one thing." That "one interest" plus "one idea" equals one job for a person with disabilities. Through the power of a team to support and elevate that person initially and brainstorm ways to help them flourish, self-employment can become a reality. He shared inspiring stories of people with varying abilities creating their own path who did not fit into traditional employment models. Not only are they successful, but they are truly earning their reputation through good business practices and the delivery of in demand goods and/or services. FSU CARD will continue to work closely with Picasso and Einstein and promote their ideas to help others achieve this same dream.



---
Client Corner
"CARD is continuously looking for clients who would like to share their art or writing pieces in our quarterly newsletter. If you are interested in sharing your work for our next issue, please send an image electronically to Tammy Dasher (tammy.dasher@med.fsu.edu) by June 4th, 2018. All pieces should be titled. Select pieces will be chosen for each edition of the newsletter; artists and authors will be notified if their piece is chosen."
Please welcome Joseph Show!
By: Allison Leaztow
Please help us welcome our newest Constituency Board Member, Joseph Show! Joseph brings first-hand experience to the board as he has been served by CARD since 2003 when he was only 13 years old. Since then, he has accomplished so much including being an advocate and voice for those on the autism spectrum, earning a Bachelor of Science degree in Information Technology in 2012 from FSU, and has been employed with Cornerstone Software Services for just over four years. Joseph and his family took advantage of all the resources they could after his diagnosis to help support him and give him the tools to be successful. Throughout all of this, he found his voice as an advocate for autism awareness as early as his teenage years. "I've been given tons of resources to better understand ASD and to better fit into this world of neurotypicals. Everyone has been very helpful and supportive, and I am very grateful," stated Joseph about his experiences with CARD. Recently, he has volunteered his time with CARD to assist with some of the adult groups and when there were some technology problems, he was able to be the CARD superhero and save the day! Because of his commitment to helping and educating others about ASD, it seemed fitting the next step would be for him to join the FSU CARD Constituency Board. "It's a great honor. It feels like another avenue through which I can give back to CARD after all it has given me, and I'm eager to do what I can," stated Joseph when asked what it felt like to serve on the board. When asked how he sees himself contributing, he responded, "Lending my experience as a person with ASD when applicable."
Joseph will add a great deal of perspective and experience to the board giving us the tools to serve our community better by seeing it through the eyes of one of our constituents.
Health and Nutrition
Autism Spectrum Disorders (ASD) and Diet
By: Karen Ansel, MS, RDN, CDN
Autism Spectrum Disorder, or ASD, is a complex developmental and neurological condition that typically appears during the first three years of life. It affects brain function, particularly in the areas of social interaction and communication skills. Classic symptoms include delayed talking, lack of interest in playing with other children, not wanting to be held or cuddled and poor eye contact. There is no known cause for ASD, but both genetics and environment are believed to play a role.
The Centers for Disease Control and Prevention estimates 1 in every 68 American children has been identified with ASD. It is about five times more common in boys than in girls.
People with ASD often repeat behaviors and have narrow, obsessive interests. These types of behavior can affect eating habits and food choices, which can lead to the following health concerns.
---
Client Forms
---
ARCHIVED NEWSLETTERS
---