CARD Training Information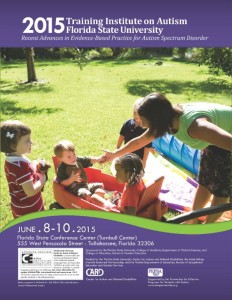 2015 Training Institute on Autism
June 8-10th, 2015
Registration is open!
Download the brochure | Register Online
For more information and scholarship funding requests, please contact Kendra Adams at
kendra.adams@med.fsu.edu.
Parent Stress Intervention Program* –
Wednesdays, June 17th-July 22nd (6 sessions)
The Parent Stress Intervention Program was created to help parents of children with disabilities manage stress. The program incorporates evidence-based interventions from the field of positive psychology. Learn More >>.
NEW AUTISM SUPPORT GROUP!
Bay County Autism Support Group Meeting
Date: May 21st
Time: 5:30-7:00 pm
Location: Margaret K Lewis School, 203 N. East Ave.,
Panama City, FL 32401
Hollen Slaughter, Occupational Therapist, will be sharing with parents an explanation of the sensory issues that students with disabilities can have. She will also discuss strategy/activities for home and school to assist students with sensory input needs. Learn More >>
Please RSVP to jenniferldoss@gmail.com
by May 15th.
Community Training Information
FSU College of Education is offering:
FSU School of Communication Science & Disorders Presents:
Summer 2015 School Age Playgroup to promote social communication & social interaction skills with parent education/training included. Learn More >>
University Of Miami, Department of Psychology Research Study
Do you have a child with autism? Would you and our partner be willing to participate in a research study? Learn More >>
Madison County School Board
Offering Free Developmental Screening Opportunities for children ages 3 years to 4 years 6 months. Learn More >>
Kids Incorporated Presents:
The 14th Annual Kidsfest, Saturday, May 2nd at the North Florida Fairgrounds. Learn More >>
Camp Ramah Darom Presents:
Tikvah at Ramah Darom — a first of its kind in the Southeast, this engaging four-week Jewish summer experience is designed for teen campers diagnosed with autism spectrum disorder. Learn More >>