Summer Training Institute on Autism – 2018
June 18, 2018 @ 8:30 am

-

June 20, 2018 @ 4:00 pm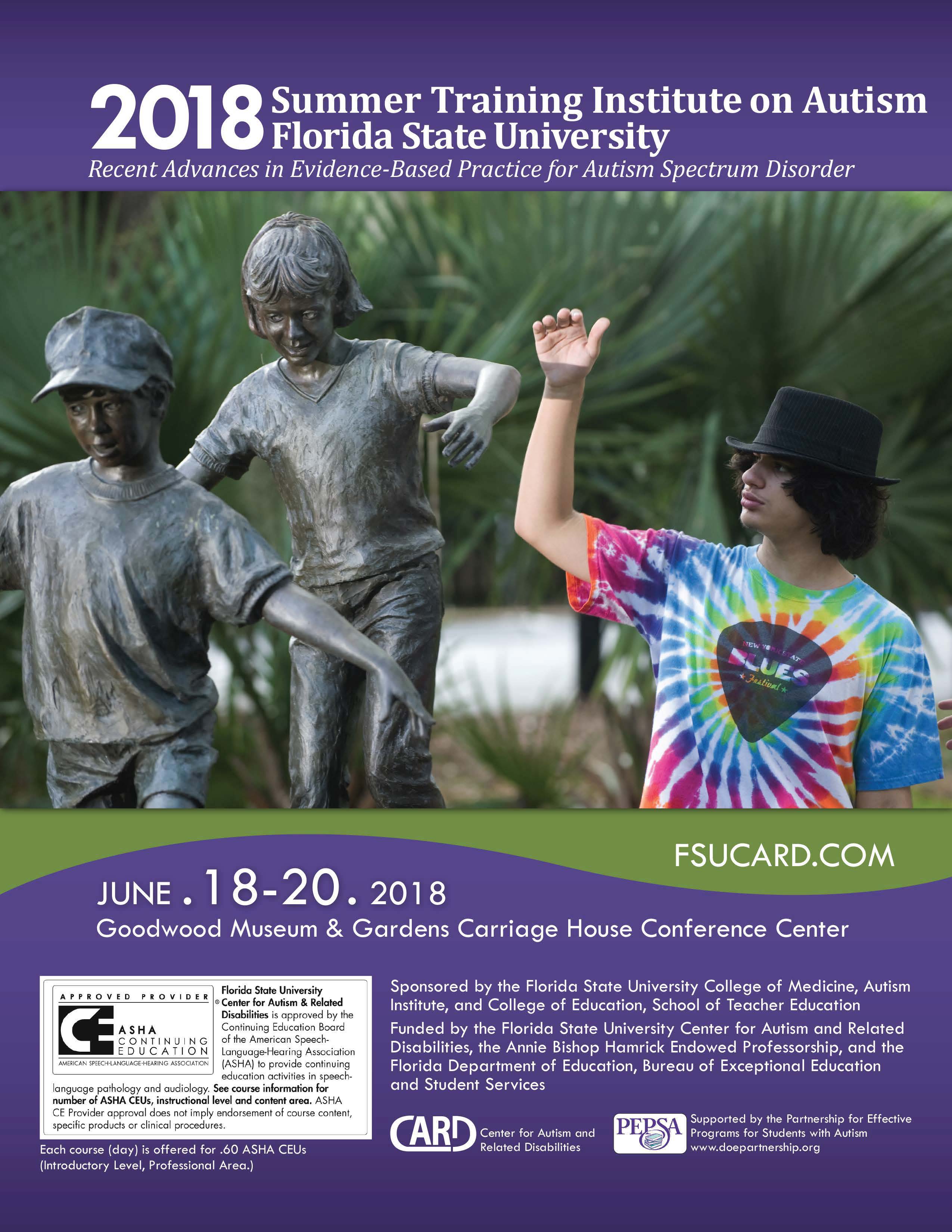 Training Institute on Autism Brochure – 2018– (pdf version). Click here for a full description of the presentation information.
Monday, June 18, 2018 — 8:30 a.m. – 4:00 p.m.
Managing Frustration, Anxiety, and Teaching Social Skills
Jed Baker, Ph.D.
Tuesday, June 19, 2018 — 8:30 a.m. – 4:00 p.m.
Success for Individuals On the Autism Spectrum Through the Lifespan: An Inside View
Stephen Shore, Ed.D.
Wednesday, June 20, 2018 — 8:30 a.m. – 4:00 p.m.
Designing Early ASD Intervention: Recent Evidence from Developmental & Behavioral Sciences
Rebecca Landa, Ph.D.
Registration
Please register online at
https://fsucard.com/registration/
For registration questions and/or issues, please email register@capd.fsu.edu.
Fees
FSU Faculty and Staff
                           1 day      2 days     3 days
Early Bird*        $100        $150          $195
Regular Fee**    $125        $170          $220
Non-FSU Faculty and Staff
                            1 day      2 days    3 days
Early Bird*         $175         $225          $275
Regular Fee**    $200        $250         $300
*Early Bird rates available until 11:59pm, Thursday, June 7, 2018.
**Online registration closes at 11:59pm, Wednesday, June 13, 2018.
Scholarships
A limited number of scholarships are available for
teachers, professionals, clients, and family members.
For information and scholarship application, please visit
https://fsucard.com/
https://fsucard.com/scholarships/
Deadline for scholarship funding request is 5:00 p.m., Friday, May 25, 2018.
If you are applying for a scholarship, please do NOT register for the training until you have received confirmation of scholarship award funding from the Autism Institute.
Cancellation & Substitution Policy
If a registrant is unable to attend, they may cancel or substitute someone else. Substitutions and cancellations must be made in writing. If you do not cancel in writing, you accept liability for all fees and acknowledge that you may not be eligible for scholarships in future.