Map Unavailable
Date/Time
Date(s) - 06/16/2020 - 06/18/2020
8:30 am - 4:00 pm
Categories
Our 2020 Summer Institute is available (ONLINE) this year! Attend via Zoom this year from the comfort of your own home!
Registration and Fees
Registration include access to all three days of the Summer Training Institute and a one-year license to access the Autism Navigator Classroom Success for PreK to Second Grade course (a $500 value).
If you live or work in the State of Florida, registration is FREE.
Participants from FLORIDA use this link to register:
https://bit.ly/2X3gdcw
If you live outside of Florida, the registration fee is $250.
Registration will open for participants outside of Florida on Monday, June 1, 2020.
Participants OUTSIDE OF FLORIDA use this link to register:
https://bit.ly/3ejc8qh  
Tuesday, June 16,  8:30 AM – 11:50 AM (EST)
A Life Course Perspective on Autism and the Transition to Adulthood: Using National Population Level Data to Inform Policy and Practice
Presenter: Anne Roux, MPH
A.J. Drexel Autism Institute
Training Description:
There is an urgent need for understanding how life unfolds across the lifespan for people on the autism spectrum. Medical and clinical interventions are vital, but we must also learn about the experiences that help or hinder quality of life for people on the autism spectrum, their families, and our communities. This presentation will apply a life course perspective to frame our understanding of the current science on transition for youth on the autism spectrum, including population-level services research from the National Autism Data Center and applied findings from transition programs at the A.J. Drexel Autism Institute.
Tuesday, June 16,  12:40 PM – 2:10 PM (EST)
Building Work Skills for Employment Success: Strategies and Resources
Tracy Dempsey, MS
Project 10
Training Description:
This presentation reviews state and national employment initiatives and transition services, identifies work skills and attitudes as well as gaps in today's workforce and provides resources for teaching working skills.
Tuesday, June 16,  2:30 PM – 4:00 PM (EST)
Applying the Data to State Practices: A Panel Discussion with Florida Transition Policy Makers and Stakeholders
Moderated by Anne Roux, MPH
Training Description:
This panel of post-secondary and agency personnel will explore how the process to positive adult outcomes works in Florida. The paths of employment and post-secondary options will be explored, and strategies shared on how to make each path a success.
Wednesday, June 17,  8:30 PM – 4:00 PM (EST):
Challenging Behavior Management – Leveling UP! to Provide Comprehensive Support for Emotional Regulation
Presenters: Amy Laurent, PhD, OTR/L and Jacquelyn Fede, PhD
Autism Level UP!
Training Description:
Autistic individuals often exhibit behaviors deemed to be problematic and challenging. This presentation will reframe our understanding of challenging behaviors by examining how emotional regulation ability influences an individual's capacity to navigate their day. Factors influencing emotional regulation will be explored from both a first-person autistic perspective, as well as developmental perspective. We will also introduce practical regulation strategies for use in the home and classroom, as well as a comprehensive suite of emotional regulation supports developed by Autism Level UP! Participants will have interactive opportunities to use the tools/strategies presented. Modifications for the supports will be discussed for individuals at a variety of developmental levels (e.g., students who are not yet communicating using words, those who are emerging language learners, and those who are conversational).
Thursday, June 18,  8:30 PM – 4:00 PM (EST):
An Interactive Guide Through Autism Navigator® for Success in PreK To 2nd Grade – Strategies for In-Person and Virtual Classroom
Presenters: Joy Moore, MS, Lerena Fleck, MS, Renee Holland, MS, Amy Wetherby, PhD, Debi Cassidy, BS and Catherine Zenko, MS
Florida State University
Training Description:
This presentation will be an interactive guide through the Autism Navigator's newest course, Classroom Success in PreK to 2nd Grade. Participants will learn how the unique characteristics of autism may impact a student's school experience and interfere with classroom learning. An evidenced-based framework will be presented to prioritize goals using a lens of active engagement and a layer cake of teaching strategies to promote learning and positive behavior. To achieve the intensity needed and promote generalization for students with autism, we will highlight the importance of teaching and learning across everyday classroom activities. Video examples and audience participation will be used to illustrate how to apply this model to both in-person and virtual classrooms, and to teach parents strategies to support their child's learning in everyday activities at home.
Each participant will also receive 11 seats in the Autism Navigator How-To Guide for Families, 1 for the teacher and 10 for families to help build a stronger partnership during this time of virtual learning.
******************
Participants may attend one or more days of this Training Institute and will be eligible for CEUs based on the number of days attended for a possible total of 1.8 ASHA CEUs and 18 hours of instruction for in-service points. A certificate of attendance and credit for CEUs will only be provided to participants for the duration of time they attend each session. Participants must be logged in and attentive for at least 80% of each 90-minute block to receive credit for that session. For information or assistance, please email autism@med.fsu.edu.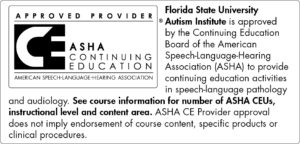 This course is offered for up to 1.8 ASHA CEUs
(Intermediate; Professional Area)
Cancellation Policy
If a registrant is unable to attend, they may cancel for a full refund if received by June 12, 2020. Cancellations must be made in writing to support@autismnavigator.com. Registrants who cancel will lose access to the Autism Navigator Classroom Success for PreK to 2nd Grade course and the ½ price Summer Institute course discount. If you do not cancel in writing, you accept liability for all fees.
Sponsored by the Florida State University College of Medicine, Autism Institute and Autism Navigator, LLC.
Funded by the Florida State University Center for Autism and Related Disabilities, the Annie Bishop Hamrick Endowed Professorship, and the Florida Department of Education, Bureau of Exceptional Education and Student Services. Center for Autism & Related Disabilities