Dear Friends,
It is hard to believe the holiday season is upon us and 2016 is coming to a close. One of the many changes at FSU CARD is we are switching from a monthly to a quarterly edition of our newsletter. This means they may be a bit longer, but they will only be sent out once every three months.
We have had a busy fall working with the families, schools, individuals and community agencies within our 18 counties. We are finalizing our 2017 training calendar and plan to utilize the technology in our new training room in the Tallahassee office to broadcast monthly, interactive sessions on a variety of topics. We welcome your suggestions for topics you would like us to include. An example of the online training format that FSU CARD plans to start in 2017 is featured in the Community Spotlight and Monthly Events section below called Holiday Tips. I did this training few years ago when I worked at the UF CARD and thought it was apropos to include in our December newsletter. In addition to our online opportunities, we plan to offer various groups in all three office locations (Tallahassee, Panama City & Pensacola) and the surrounding counties on a rotating basis. Stay tuned to our website and Facebook page for the new 2017 Training & Events calendar coming soon.
Speaking of 2017, exciting opportunities are just around the corner:
January 19-22, 2017, the 24th Annual Statewide CARD Conference and PEPSA
Pre-Conference day will take place in Orlando and it is not too late to register. The sessions
and speakers for the conference are amazing and you don't want to miss out on this
opportunity to learn, network and share with others in the Florida autism community.
We have free codes available to our families of children ages 2-5 for the Autism Navigator® How-To Guide for Families, a web-based tool for caregivers of young children on the autism spectrum. See below for more details.
We are looking for CARD clients who are artists and would like to submit pieces for
juried art exhibition, entitled "The Way I Speak: Artists and Autism." This is a statewide call
for artists and the deadline for submissions is January 25th. Visit our web site for more
information about the exhibition and how to submit artwork.
 CARD Day at the Capitol is in the works. We will pass along information
as it becomes available.
April is autism awareness month. Be on the look out for events for you and your family
throughout the panhandle.
In closing, I'd like to share a few resources you may find helpful to make the holidays a little less stressful and more enjoyable. Unfortunately, the holidays can feel "too merry and too bright" for individuals with autism and related disabilities. These resources offer suggestions to families and their loved ones on how to make the most of the holidays.
Wishing you all a Happy Holiday and Prosperous New Year,
Catherine Zenko, M.S., CCC-SLP
Director, FSU CARD
---
Check out the below links for tips and information regarding the upcoming holidays:
Autism and the Holidays
4 Tips for Preparing your child with Autism for Holiday Celebrations
Visual Supports for the Holidays
---
Upcoming Trainings/Events
24th Annual Statewide CARD Conference and PEPSA Pre-Conference for Educators
When: January 20-22, 2017
Where: Florida Hotel and Conference Center, Orlando Florida
Click here to view the top 5 reasons to attend the CARD conference!
View Flyer >>
ADOS 2 Training (24 Annual Statewide CARD Conference)
When: January 19th & 20th, 2017
Where: Florida Hotel and Conference Center, Orlando Florida
View Flyer >>
Register >>
FREE Autism Navigator How-To Guide for Families with Young Children
You must be registered with CARD and have a child between the ages of 2-5 (not yet enrolled in kindergarten) to get your FREE code for the Autism Navigator's HOW-TO GUIDE.
Read More >>
Register >>
Breakfast with Santa FSU CARD & Autism Society of the Emerald Coast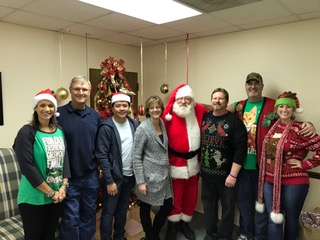 FSU CARD partnered with Autism Society of the Emerald Coast (ASEC) once again to provide a fun Christmas Day with the members of ASEC. On December 10, 2016 members of ASEC were provided a pancake breakfast, private, sensory, friendly visit with Santa, crafts and activities from local therapy providers. This is always a great event for our families and a blessing to all who attend!
View All Upcoming Trainings >>
---
Community Spotlight & Monthly Features
The Way I Speak
"The Way I Speak" is a juried exhibition about artists and autism organized by Florida State University Autism Institute, the Center for Autism and Related Disabilities (FSU CARD), and VSA Florida. The purpose of the exhibition is to recognize creative voices of people with autism and related disabilities and to feature artwork in a competitive setting.
Clients of CARD throughout Florida are invited to submit art to this competition and exhibition. Selected entries will be displayed at the Florida Capitol, 22nd Floor Gallery May 1- July 31, 2017. For additional information and to enter, please email this form with a photo (.jpg) of your artwork to Veronica Jones, at veronica.jones@med.fsu.edu.
**Submissions are due by January 25, 2017**
For questions please contact Veronica Jones from FSU CARD (Veronica.jones@med.fsu.edu), or Susan Baldino from VSA Florida, (susanbaldino@comcast.net).
Jan La Belle Scholarship
Scholarship Information:
The Jan La Belle Scholarship Program was established in 2009 to provide a financial resource to individuals with disabilities who desire to pursue their personal and career goals through attendance at a post-secondary institution.
The 2016 application period for 2016-2017 is from December 15th through January 31st. The winner will be announced May 15th.
One or more Jan La Belle Scholarship winners are selected annually for a total possible non-renewable award. Award amounts are based on several factors, including available funds and number of eligible applicants.
Click here to read more >>
FSU School of Communication Science & Disorders: SPEECH TEAM
SPEECH TEAM is a clinical diagnostic and treatment team composed of first-year graduate student clinicians, specializing in teens and adults with various communication disorders, specifically autism spectrum disorders.
If you are interested in services, please contact Jarrod Zinser, CCC-SLP at 850-645-9392 or Jarrod.Zinser@cci.fsu.edu
View Flyer>>
Holiday Tips from UF CARD
Tips for Making the Holidays Less Stressful!
The holidays can be a stressful time for everyone, but if you have a child with autism, it can be even more stressful. Changes in routine, traveling, visitors, strange foods, and gift giving and getting are some of the many extra stressors that can negatively impact your holiday season. But with the right tools, these holiday-related stressors don't have to be so stressful. We are happy to share a "preparation for the holidays" presentation, tips for eating out, and some helpful resources that can help make your holidays a little more merry and a little less scary.
Click here to view tips >>
---
Consultant Corner
Girls' Day Out December Update!
By: Tammy Dasher, M.A., BCBA
In November, CARD hosted a Girls' Day Out social skills training for middle and high school clients in lovely downtown Havana in Gadsden County. First, the girls attended a class at the Havana Wellness Studio, taught by Kate Taluga, where they learned about the calming properties of different essential oils. Then, the girls were able to make their own blend of oils to create a customized bottle of lotion. Dee Nagel of the Wellness Studio also gave each girl a goodie bag that included a necklace with a tiny clay bottle for oils. The girls enjoyed some time looking around at the shabby chic and antique items displayed in the shop along with the oils and diffusers. Lunch was a short walk away at Oscar's Pizza. Over a delicious lunch of pasta and pizza, the social skills training covered ways to handle anxiety "in the moment." The girls shared strategies that have worked for them in the past and had the opportunity to practice their social skills as they ordered, ate lunch, and held conversations with the group members.
Know any middle or high school clients who might be interested in the next Girls' Day Out? We would love for you to join us! Contact Tammy in Tallahassee (tammy.dasher@med.fsu.edu), Chrissy in Pensacola (christine.ogilvie@med.fsu.edu), or Crystal in Panama City (crystal.grey-hewett@med.fsu.edu). We will be hosting Girls' Day Out events all across the Panhandle; please send us any ideas or questions you may have!
Talented CARD Clients Show Off their Creative Side!
By: Allison Leatzow, December 14, 2016
FSU CARD paired up with VSA FL to take full advantage of their popular My Art My Way Artist in Residence Program this fall. Susan Baldino of VSA FL and Carla Clymo, our art instructor, provided a creative rich environment for eight CARD participants to learn new artistic techniques, tryout new art tools, and create beautiful masterpieces. The Sharing Tree, a shop in midtown Tallahassee that redistributes gently used and new materials, was our host site each week for our classes. The owner, Carly Sinnadurai, was gracious in her enthusiasm to accommodate our group and support our mission.
For eight weeks, our artists practiced using watercolor, oils, natural materials, and other supplies to experience designing various art pieces. Our artists ranged in abilities from very well versed in the art world while others were emerging artists. Regardless of their artistic ability, each one provided their fellow artist with unabashed praise for their final product each evening. The positive energy that the group embraced encouraged many of them to bring in some of their other personal creations such as stories, drawings, and songs that they had created at home. In the past, many had not had opportunities to share these hobbies and talents of theirs with others and soon had an audience each week to show them off!
As the classes began to wind down, a final piece of art was created that will be featured in the next FSU Autism Institute/CARD art exhibition in partnership with VSAFL, "The Way I Speak: Artists and Autism," at the Florida Capitol, 22nd Floor Gallery May 1- July 31, 2017. The juried exhibition will also feature the works of other VSAFL Artist in Residence Partnerships from across the Big Bend. For more information about the upcoming exhibit and how to participate, please click here.
FSU CARD Pensacola Partnership with National Flight Academy
By: Chrissy Ogilvie, PhD
The FSU CARD Pensacola office has entered into a partnership with the National Flight Academy (NFA) and Autism Pensacola to promote the inclusion of students with autism in their tailored programs. In collaboration with Autism Pensacola, Dr. Ogilvie will provide recommendations and training to the staff at NFA on best practices for inclusion as well as providing direct services to those students who attend the academy.
The National Flight Academy (NFA) is America Camp Association (ACA) approved and provides all students the opportunity to experience immersive learning in a dynamic environment. NFA is looking forward to partnering with FSU CARD and Autism Pensacola to offer a wide range of programs (from 4 hour Adventures, three-day Cruises, and six-day Deployments).
New Year, New Tech: Helping Habits Stick
By: Taylor Fabrega
With startups cranking out exciting new gadgets every day, our lives are becoming increasingly infused with technology. For those who struggle with executive functioning, this could be a very good thing. From simple phone reminders for tasks and appointments to extravagant smart home systems that turn off the stove when you forget, technology can be the "upgrade" that unlocks increased productivity -and even independence- for its users. Such is the case with the Octopus smart watch by JOY- "the first icon-based watch that teaches kids good habits and the concept of time." While Octopus is intended for children ages 3-8, its features make it an ideal tool to help with facilitating independence for individuals with Autism of any age.
Octopus is programmed via an application (available for IOS and Android) that syncs with the watch to allow users to create what is essentially a digitalized visual schedule. Icons depicting various elements of routines and other reminders appear on the screen along with the current time, paired with discreet vibration that ensures the wearer checks the notification. There is also an optional gamification feature that allows the wearer to unlock virtual rewards for increased reinforcement. Together, these features teach children good habits and the concept of time- while their parents benefit from tips and personal notes provided through the app.
For more information, visit the Octopus Indiegogo crowdfunding page: https://www.indiegogo.com/projects/octopus-watch-the-training-wheels-for-good-habits-kids#/
---
Client Corner
CARD is looking for clients who would like to share their art or writing pieces in our quarterly newsletter. If you are interested in sharing your work for our March issue, please send an image electronically to Tammy Dasher (tammy.dasher@med.fsu.edu) by March 5th, 2016. All pieces should be titled. Select pieces will be chosen for each edition of the newsletter; artists and authors will be notified if their piece is chosen.
Client Spotlight
Adam Berry.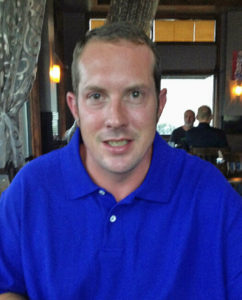 Adam attended Montevallo University in Montevallo, Alabama, where he focused his study on Fine Arts. He is a talented artist and has developed his own style of colorful, sometimes abstract, large canvas paintings.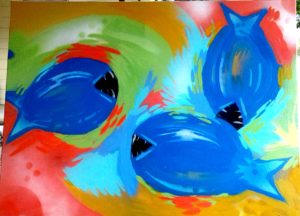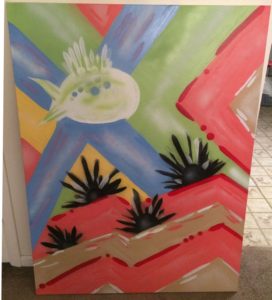 Adam made a decision to move from Huntsville, Alabama to Fort Walton Beach in 2015. He loves the lifestyle of the Gulf Coast and the fresh influence it brings to his imagination and art. He is an avid fisherman and enjoys both fresh and saltwater fishing in this area.
The paintings (from left to right): "Sea Urchins", "Ouch, Fish bite!".
---
Client Forms
---
Health and Nutrition!
Help Your Child Build Healthy Bones
When you think of how optimal nutrition impacts your child's health, their bones may not be your first concern. After all, osteoporosis largely affects older adults. But, with children building about 40 percent of their bone mass between the ages of 9 to 14, and reaching 90 percent of their peak bone mass by age 18 (for girls) and age 20 (for boys), bone health absolutely is a health issue for kids.
Think of bone health as a savings account. Bone is living tissue that is constantly turned over with regular deposits and withdrawals. During childhood and adolescence, bones are primed to make the highest rate of deposits possible, for use throughout the rest of a person's life.
What Builds Healthy Bones? Click here to find out!
---
 Year-End Giving Opportunity
The holidays offer a special time for celebration, reflection, and showing appreciation to the people and organizations that have made a difference in our lives. A gift to the Autism Institute is your opportunity to change lives. Our funding comes from federal and state grants and donations – your donation can help us close the gap between grant funding and our growing need to meet new and evolving goals. We invite you and your family to be part of our growing efforts by contributing today. Please click here for more information about how you can help.
---
ARCHIVED NEWSLETTERS
---
CARD Training Information