Another school year is in the books and summer is here! Congratulations on surviving the last few weeks of classes. FSU CARD has also been very busy and, because we have so much to share, we had to prepare an extended edition of our quarterly newsletter.
Our Summer Training Institute on Autism is scheduled for June 19-21 and will again be held at the beautiful Goodwood Museum and Gardens Carriage House Conference Center.  The three topics of the Institute have created quite a buzz and we are thrilled to say our registration numbers are getting close to the limit. We do still have a few spaces available, so if you have not had an opportunity to register, you have until Wednesday, June 14th.
April was Autism Awareness month and we had so many wonderful autism awareness activities throughout our 18-county region that we added a special edition feature of the newsletter to showcase each one. We would like to thank everyone who helped make each event a success. April was also exciting because we added a new staff member in our Pensacola office – Rita Lung. Read about Rita in our Welcome section below.
Our Features section includes several articles that address some of the main concerns we hear from families about summer: camps and safety. Below are a couple of articles listing different camp options for individuals with autism spectrum disorder (ASD), and we also want to remind everyone that we can provide training to any camp staff who would like more information on how to make camp fun and work for people with ASD. If your child's camp would like FREE training from FSU CARD, please have them fill out a training request form located on our website:
https://fsucard.com/contact/training-request-form
. In addition to camp, summer time provides several opportunities to cool off in swimming pools, lakes, oceans, etc. While swimming can be the highlight of any summer day, drowning remains the number one cause of death in young children with ASD. Please take the time to read over the resources on water safety and keep your loved ones out of harm's way.
The remainder of the newsletter has articles on sensory processing, training news, nutrition information.  The Client Corner highlights our three Artists and Autism events. If you have not had the opportunity to see the Artists and Autism: The Way I Speak exhibition on display at the 22nd Floor Gallery of the Florida Capitol, you have until July 31st to experience this breathtaking display of art. The Capitol is open Monday through Friday from 8am-5pm and there is no cost to visit. It is worth making the trip for you and your family to see the amazing works of art from artists living with ASD from across the state of Florida.
We hope everyone has a wonderful and safe summer and look forward to seeing many of you at our Summer Institute in a few weeks.
Sincerely,
Catherine Zenko, M.S., CCC-SLP
Director, FSU CARD
---
Features
CARD 2017 Summer Training Institute on Autism
This Training Institute is designed to prepare educators and service providers to understand the social communication, behavioral, and learning characteristics of children and adults with autism spectrum disorder (ASD). The Training Institute will present new findings on evidence-based practices and offer practical strategies for implementing these practices for individuals with ASD in educational and community settings.
Learn More >>
25th Annual CARD Conference: Save the Date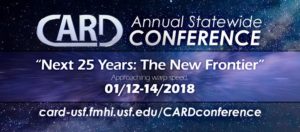 25th annual CARD Conference January 12-14, 2018!
Learn More >>
FSU CARD Welcomes Rita Lung!
We are pleased to welcome our new Autism Consultant, Rita H. Lung, M.Ed, to the
FSU CARD team. Ms. Lung brings years of experience furthering autism acceptance
through family support and community education in the Pensacola community. Originally
from California, she holds a Master in Education with a concentration in Special
Education and Early Childhood Development. She is also a graduate of COPAA's Special
Education Advocate Training program. Coming to us from the Navy's Exceptional Family
Member Program (EFMP), Ms. Lung brings to the team expertise in navigating the military
lifestyle for families living with autism. We are excited to have Ms. Lung join
our team as we work to further autism acceptance in Escambia, Santa Rosa, and Okaloosa
Counties!
View All Upcoming Trainings >>
---
Autism Awareness Month: Special Features
Kickin' It For Autism!
1st Annual Autism Soccer Clinic
What a ball! The 1st Annual Kickin' It For Autism soccer clinic in partnership with the FSU Soccer team and coaches was a great success. The April 22nd event had nearly 100 attendees and raised over $1,000 for the FSU Autism Institute and FSU CARD, which will help us provide funding to support client and family services related to Autism Spectrum Disorder in the areas of research, training, and community outreach.
The vision of this inaugural event was to raise awareness of our organization and continue our efforts in community outreach by creating an inclusive soccer clinic for all athletes. Based on the comments and smiles of the participants, their families and the student athletes, the event accomplished what we set out to do. We are looking forward to growing the event next year with the help of the FSU Soccer team, coaches and staff. We would like to thank everyone who helped make this event a success, especially Mark Krikorian, Head Coach, Nathan Minion, Director of Soccer Operations, and Ileana Moschos, Volunteer Coach.
FSU CARD staff also took photos of the event and they can be viewed:
Thank you again to our sponsors, volunteers, participants and all the student athletes and coaches who helped make this day possible! We can't wait until next year.

Harley Davidson Bike Night
Author: Taylor Fabrega 
In observance of Autism Awareness Month, Harley-Davidson of Tallahassee graciously hosted CARD as the recipient of their charity for their monthly Bike Night event on April 13th. All beverage proceeds benefitted CARD as participants enjoyed food by local grill master "Big D" and danced to the music of Free Wheelin'.  CARD enjoyed hosting an information table in the midst of all the fun! Altogether, Tallahassee HD raised $717 for FSU CARD. We look to collaborating in April of 2018!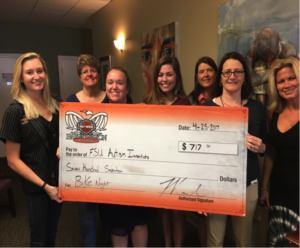 Franklin County School Fundraiser
A huge thank you to the Franklin County School!
Author: Lerena Fleck
Ms. Kim Cochrane, a fifth-grade teacher at Franklin County School led a "Light It Up Blue" fund raiser where faculty, staff and students donated a dollar to wear a blue t-shirt to school on April 7th, instead of the required dress code shirt.  The goal of the fund raiser was $100 and the school exceeded the goal and raised an amazing amount of $658! One hundred percent of these funds will go towards supporting parents' and teachers' requests to attend trainings or to secure specific supports for their child or student with autism. Thank you, Ms. Cochrane and Franklin County School, for your support!

Spring Fam Jam: Family & Music Festival
Thank you to all that attended!
Author: Deborah Gunter
CARD was excited to support Autism Spectrum on the Emerald Coast during their inaugural Spring Fam Jam on March 18, 2017, in Niceville, Florida.   This family and music festival included two stages with live entertainment, arts and crafts merchants, food and beverage vendors, and a children's area with bounce houses, inflatable slides, and other activities. It was a great event for our families and an awesome venue to spread awareness to our community.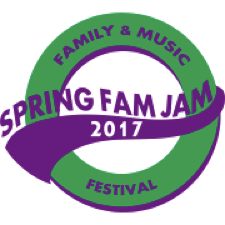 Steps for Autism 2017!
Thank you for a great fundraising season!
Author: Christine Ogilvie
On Sunday, April 9th, Autism Pensacola, Inc., celebrated the kickoff of the Steps for Autism 2017 fundraising season at the Pensacola Blue Wahoos Stadium for an afternoon of autism awareness and baseball fun. The Wahoos wore autism-themed jerseys and there were vendors present with autism awareness materials and information. A great time was had by all!
---
Extended Features
Camp Connected
Limited Spacing Available!
This summer FSU ASSET students are exploring all of the ways that children and families
can connect with others using computers and smart devices. Camp Connected is a FREE
weekly program that offers online activities focused on improving communication
and social interaction, parent education opportunities, and most important – FUN!
Your child will be able to see and interact with a camp counselor, other kids, and
even parents, live on-screen. You can participate from anywhere with your internet-connected
computer or smart device.
Camp Connected is designed for children ages 4-6 years who have autism or difficulties
with social communication. Online group camp sessions will occur once a week, with
one additional individual weekly parent coaching session. The program will continue
for 6 weeks during the summer. Each 45-60-minute camp session will include interactive
group games, short videos, and activities.
For more information about FSU's Camp Connected, please contact:
Ciera Lorio (cml14h@my.fsu.edu) or Abby Delehanty (adelehanty@fsu.edu)
2017 Summer Camp Options
Trying to find fun summer camps for your child this summer? Look no further! Browse the below list of camps that are available in Tallahassee this summer. Note: We do not endorse any specific camp listed below but believe they are valuable resources for families with children during the summer.
Water Safety for Children with Autism
Summer is a great time to cool off! Read the below tips to keep your children safe in and around water this summer.
Summer in Florida means finding ways to beat the heat. One of the most popular ways to do that is swimming. Unfortunately, drowning is the leading cause of death for people with autism so extra precaution is vital. Here are two resources about water safety and autism. The first one was published by USF CARD. FSU CARD staff are available to help train any swim instructors who want to learn more about autism spectrum disorder. The second web resource is from a webinar from http://www.aboutspecialkids.org/, created by Applied Behavior Center for Autism in Indiana organization.
Resources:
http://card-usf.fmhi.usf.edu/docs/CARD_WaterSafety_booklet_061114.pdf
Lucky's Market: Bag For Change Recipients!
Now that we were selected as one of the local organizations to receive the donations from the Bag for Change, please shop at
Lucky's Market Tallahassee
— Just bring in your reusable bags and you will receive $.10 per bag to donate to a local nonprofit.
Thank you for supporting our local community.
---
Articles
Sensory Processing and Autism
By: Cindy Golden
Processing our sensory environment can be challenging. Children and adults on the
spectrum appear to have a much more challenging time at understanding and dealing
with sensory input in their environment. Our senses are complex systems that assist
us in understanding and guide us in knowing how to behaviorally interact with our
surroundings. We all know about the main five senses: taste, touch, smell, sound,
sight. These impact one's ability to understand and navigate the environment around
them. Persons with spectrum disorders may be hypersensitive (overly sensitive),
hyposensitive (under-sensitive), or even have a mixed reaction to sensory stimuli.
But what about the other three senses?
The Proprioceptive sense is our body's ability to be aware of and understand muscle
input. Issues in this area may cause one to break things without meaning to; bump
into things; fall out of a chair; appear uncoordinated; pull on their hands or fingers,
chew their lips, and even put too much pressure on a pencil when writing.
The Vestibular sense is another of the lesser knows senses and is our body's ability
to deal with balance. Hyper or hypo-sensitivities in this area can cause one to
have difficulty with balance walking or running; staying in a seat; riding a bike;
tying shoes; difficulty with handwriting; tracking words when reading; even orientation
to sound and changes in acceleration.
The third lesser-known and less-researched sense is Interoceptive. This is our body's
ability to monitor internal needs, such as sleep, hunger, need for toileting, body
temperature, sickness, etc. Just imagine having communication challenges and challenges
in this area. You can see how this would certainly affect a child's behavior! When
persons with autism exhibit behaviors that are challenging, it is important to not
only begin with the investigation of communication issues but also sensory issues
in the environment. Understanding a person's sensory needs or differences could
guide you in the selection of a more appropriate intervention or accommodations
that may alleviate under- or over-sensitivities to sensory input. This, in turn,
may positively impact their behavior.
Additional resources:
Emotional Awareness and Autism >>
Pensacola PEPSA Training
By: Tammy Dasher
Dr. Josh Nadeau, a licensed clinical psychologist who supervises the clinical treatment
team at Rogers Behavioral Health in Tampa, traveled to Pensacola recently to speak
at CARD's regional PEPSA training. Dr. Nadeau, author of numerous peer-reviewed
articles and book chapters, focuses on the use of evidence-based interventions to
address obsessive-compulsive and related disorders, anxiety and mood disorders,
and eating disorders. He has a specific research interest in addressing the unique
needs of youth and adults with autism spectrum disorder (ASD).
Over 50 teachers and other professionals attended the training on April 10, 2017,
to hear his presentation on methods for recognizing, assessing, and treating symptoms
of anxiety and depression among youth and adults with ASD. Destry LeBrun of Marcus
Pointe Baptist Church provided a spacious venue as well as coffee and snacks throughout
the day. Susan Byram of Autism Pensacola, Inc. (API), treated the participants to
a delicious lunch from Newk's.
Positive audience feedback showed appreciation for Dr. Nadeau's helpful handouts
and useful strategies, as well as the time he spent answering questions.
FSU CARD thanks Dr. Nadeau for his topical insights in the area of mental health
needs among people with ASD. CARD would also like to express gratitude to Marcus
Pointe Baptist Church and Autism Pensacola, Inc., for partnering with us to bring
this presentation to the Pensacola area.
---
Client Corner
FREE Autism Navigator How-To Guide for Families with Young Children
There is still time to sign up!
FSU CARD is excited to offer families of toddlers and preschool children (ages 1-5 not yet enrolled in Kindergarten) who are registered with FSU CARD FREE access to the Autism Navigator® How-To Guide for Families. Once enrolled in the How-To Guide for Families, you will be invited to sign up for weekly Guided Tours to the How-To Guide for Families.
Follow the steps on
this
flyer to sign up for your FREE How-To Guide today!
*This is a limited time offer.
Larry Mitchell Jam Session
A BIG thank you to all who attended!
FSU CARD clients with emerging musical talents had a rockin' time jamming with Grammy award-winner, Larry Mitchell, this past month. The musicians had a chance to learn more about the music industry while honing their musical skills. Larry visited all three FSU CARD locations: Panama City, Pensacola, and Tallahassee. Larry visited East Bay High School's autism class in Panama City. One of the students, who brings a guitar to class daily, jumped right up front to accompany Larry and assist with his peers who all had an opportunity to play one of Larry's guitars. The rest of the class played percussion instruments as the class and teachers sang John Lennon's Imagine. Before Larry left, he was given an open invitation to return to East Bay High School by their Principal! Larry spent two days with FSU CARD client musicians in Pensacola and in Tallahassee. The first day consisted of a music clinic where clients came prepared with two songs of their choosing. Larry worked with each client on their songs helping them perfect their musical technique. A private performance and reception was held on the second evening, featuring each client playing one song on their own and the second with Larry playing with them. The audience was treated to a spectacular evening being exposed to the talents of these musicians. In fact, one of the musicians secured a gig from an audience member! FSU CARD is grateful to Larry for volunteering his time and efforts to all our clients that participated in this event.
Health and Nutrition
Autism Spectrum Disorders (ASD) and Diet
Autism Spectrum Disorders, or ASD, is a complex developmental and neurological condition that typically appears during the first three years of life. It affects brain function, particularly in the areas of social interaction and communication skills. Classic symptoms include delayed talking, lack of interest in playing with other children, not wanting to be held or cuddled and poor eye contact. There is no known cause for ASD, but both genetics and environment are believed to play a role.
The Centers for Disease Control and Prevention estimates 1 in every 68 American children has been identified with ASD. It is about five times more common in boys than in girls.
People with ASD often repeat behaviors and have narrow, obsessive interests. These types of behavior can affect eating habits and food choices, and this can lead to the following health concerns…
read more
---
Client Forms
---
Event Results!
Artists and Autism: The Way I Speak – RESULTS!
Art Show Exhibit – See it at the Florida Capitol until July 31st!
Author: Allison Leatzow
We are very excited about our third installation of the Artists and Autism series showcasing our theme, The Way I Speak. The opening reception held on May 2nd at the Florida Capitol 22nd Floor Gallery was a huge success. Artists from throughout the state were featured as young as seven years old through adulthood. We congratulate our winners in three age categories, as well as all the participants, for their excellence in their contribution to this exhibition. We have partnered again with VSA FL which also features two pieces created through their Artist in Residence Program. One project was with Leon High School which was a result of a prior DOE CARD partnership with their CBI class. The second piece was with CARD featuring eight adult clients. The entire exhibit will be on display through July 31st.
We congratulate our winners in three age categories, as well as all the participants, for their excellence in their contribution to this exhibition.
Ages 18+
1st Place – Daniel Horak,  Stealth Flyers
2nd Place – Sterling Ramsey,  Trapped in Loneliness
3rd Place – Shawn Brown,  Living in Color
Honorable Mention – Christian Early,  My Granny 
Ages 12-17
1st Place – Madalyn Saunier,  Angel Hope
2nd Place – Kanan Pigott,  Paper Caravan
3rd Place – Jonah Kasper,  Lake Runaway
Honorable Mention – Shaun Mitchell,  Lying Beneath the Oak Tree
Ages 7-11
1st Place – Waylon Lunsford,  Hi, Dad!
2nd Place – Annada Vergo,  My Voice, My Eyes
3rd Place – Kat Peuckert,  My Weird, Wonderful, and Awesome Life
Honorable Mention – Vyron Rios,  Mami
---
ARCHIVED NEWSLETTERS
---
CARD Training Information