Director's Letter: June 2018
Dear Friends,
School's out and summer is here, complete with 100 degree heat, afternoon thunderstorms, and days without a lot of structure. The lazy days of summer appeal to many, but often the change in routine can be difficult for people on the spectrum. One idea is to dust off your visual schedules to help put more structure and routine back into the day. Be sure to read the article in the Consultant Column section for creative ways to practice real-world application of math skills throughout the summer. If you need any visual supports to help you or your family, please contact your regional FSU CARD office for assistance: Email- autism@med.fsu.edu; Tallahassee- 850-644-4367; Panama City and Pensacola- 866-863-0138.
Our Summer Training Institute on Autism was held in Tallahassee at the Goodwood Museum June 18-20th. We had 3 amazing speakers and over 100 people in the audience each day! For those of you who were able to attend, we hope you enjoyed it and learned practical strategies to use at home or in the classroom.
We are gearing up for another installment of our Artists in Autism Series in conjunction with VSA Florida. This year it will be held in Pensacola at the Pensacola Museum of Art! The exhibition will run from September 28- October 21st and all submissions are due for consideration by July 31, 2018. For more information, scroll down to the Feature section.
We had to say goodbye to one of our consultants in Pensacola. Rita Lung is no longer with FSU CARD as of May 15 when she and her family moved to Maryland. In a note on her Facebook page, Rita shared, "Today is my last day as an Autism Consultant for FSU CARD. My family will be moving in the coming days to Maryland. We're so grateful & excited at the opportunities ahead of us: my husband will be advancing his career in military medicine, I can further my advocacy work so close to our national's capital, and my K9s will have opportunities to train with some of the best in the country. To all of my families: thank you for allowing me into your homes & your lives – it was truly an honor to work with you. And to all of the wonderful providers I was fortunate enough to partner with – you are what makes this community great! Best of wishes to you all…!" We wish Rita and her family all the best as they start their new adventure in the northeast. We are in the process of looking for someone to add to our Pensacola team as well as a new place to call home. The FSU CARD-Pensacola office will be moving at the end of August. Stay tuned for more information.
We've received several calls asking about the expanded Project Leo (Missing Persons Bill). The Governor signed the bill to extend Project Leo to all counties in Florida; unfortunately, funding for the bill was reallocated to other legislative projects. We've included more information regarding the bill in the newsletter in hopes of answering some of the questions.
We just launched a new Autism-Friendly Business Initiative modeled after the one created by the USF CARD. We are currently seeking panhandle businesses that would like to partner with us and become Autism-Friendly. We'd like to thank the pilot businesses that helped us get this initiative off the ground. You can read more about this in the Monthly Features and Events section.
I hope you enjoy this summer edition of our newsletter and as always, please do not hesitate to contact me with any comments or questions. I love hearing from you!
Warm Regards,
Catherine Zenko, M.S., CCC-SLP
Director, FSU CARD
Catherine.zenko@med.fsu.edu
---
Features

Artists & Autism Series – Pensacola CARD
The FSU CARD- Pensacola office is partnering with the Pensacola Museum of Art to host an exhibition featuring artists with autism. The event is titled, "Inside Out. Outside In: Living on an Infinite Spectrum," and is part of the FSU CARD Artists and Autism Series. The exhibition will be held from September 28th – October 21st at the Pensacola Museum of Art with a reception open to the public on October 5th.
This call for artists is for CARD clients (ages 16+) across the state of Florida. Artists are invited to submit an application with up to THREE pieces of their work for consideration for the exhibition: www.fsucard.com/submission. The artwork will be judged by a jury of professionals.
All forms of artwork will be accepted for consideration including: print, paint, pencil, digital art, photography, sculpture, and mixed media. Please note, any 3-D art cannot exceed 3'x3'x3′. At the conclusion of the exhibition, winners will be given the opportunity to donate their art to FSU CARD to be displayed in our offices across the Panhandle. Submissions are due by July 31st. No late submissions will be accepted.
Specific questions should questions should be directed to Dr. Chrissy Ogilvie at 850-324-6245 or christine.ogilvie@med.fsu.edu.
View Event Online >>
View Flyer >>
FSU CARD Pensacola: Explore your inner artist!
In collaboration with VSA Florida, the Pensacola CARD office is hosting a 5 session art class for CARD clients ages 16 and up. This highly interactive class will be led by Laura Keith King, a professional teaching artist. Space is limited to 8 participants.

Autism-Friendly Business Initiative
We are excited to offer partnerships through our Autism-Friendly Business initiative. This program was started at USF CARD, and they have graciously shared their information with us to bring this opportunity to the panhandle. The Autism-Friendly Business Initiative aims to increase the number of places families feel welcome in our community and encourage conversation with local businesses about hiring individuals with autism spectrum disorder (ASD). Community partners interested in becoming an Autism-Friendly Business will go through an initial interview, receive training for all staff, and follow up assistance from FSU CARD. Upon completion of the training, businesses with receive an Autism-Friendly Business window cling and logo to post on their website. Additionally, these Autism-Friendly Businesses will be listed on the FSU CARD website.
We would like to extend special thanks to our trailblazing pilot businesses: The National Flight Academy (Pensacola, FL), The Satori Foundation (Pensacola, FL), and Paisley Café (Tallahassee, FL).
For more information about how to become a community partner in the Autism-Friendly Business Initiative, please email us at autism@med.fsu.edu.
Project Leo
The Missing Persons Bill (CS/CS/HB 591), known as Project Leo, was signed by the governor and goes into effect on July 1, 2018. However, the funding that was requested to operate this program was cut due to other legislative priorities. Unfortunately, this means that CARD will only be able to provide support for this bill if we are able to secure donated funding towards the purchase of tracking bracelets/sensors. For full implementation, we encourage you to contact your local legislators about funding this Bill going forward so CARD can serve individuals at risk of wandering through Project Leo. CARD will continue to provide training and technical assistance to our law enforcement agencies to ensure that they have important information about people with autism spectrum disorder (ASD) and how to best support and serve them. If you have safety concerns for a family member, please let your CARD consultant know.

Grub Gives Back: Save the Date!
When: Thursday, August 2, 2018 from 11 am – 10 pm
Grub Burger in Tallahassee (3425 Thomasville Rd #21, Tallahassee, FL 32309) will donate a portion of all sales that mention FSU CARD! Thank you, Grub for being such a great community partner!

Sharing on Behalf of the FSU Multicenter
PEERS®: Social Skills Group for Teens
When: Tuesdays, from 6:00-7:30 pm * Beginning August 21, 2018 * (14 week series)
PEERS® (Program for the Education and Enrichment of Relational Skills) is a 14-week evidence-based social skills intervention for motivated teens who are interested in learning ways to help them make and keep friends. This intervention focuses on skills related to making and keeping friends, handling arguments, and managing difficult situations. Parents attend separate sessions and are taught how to assist their teens in making and keeping friends by helping to expand their teen's social network and providing feedback through coaching during weekly socialization homework assignments. Enrollment is limited. Parent participation is REQUIRED. (Parents will meet same day/time as teens).
Participants must participate in an interview process prior to actual enrollment in the group. Please register to participate in this interview at https://fsupeersgroup.eventbrite.com.
For more information, please click here.
View Flyer >>
View Registration Information >>
---
CARD Consultant Column
Article: Experiential Learning
By: Dr. Cindy Golden
Experiential learning can be described as learning from doing. John Dewey, the philosopher and educational reformist, said, "Give the pupils something to do, not something to learn; and the doing is of such a nature as to demand thinking; learning naturally results." Experiential teaching is a method of creating an environment in which children become participants – not just observers – in the learning experience. D.A. Kolb (1984) wrote that experiential learning is a way to link the concrete "here and now" experience to a more abstract environment and is the source of both learning and development.
Students, and in particular those with special needs such as autism spectrum disorder, intellectual disability, learning disability or physical limitation tend to thrive in educational settings that make learning concrete and real. Even though the needs may be different, most have common features. Learning discrete skills, such as isolated math facts, can become an abstract memorization task that has no part of a real world context. It becomes just rote memorization with no meaning. Our job as educators and parents is to help the students generalize new skills to the natural environment so that learning has a meaning. Generalization of a skill must take place if mastery is to occur. In other words, if a child knows basic addition facts only when someone shows him or her a flash card with "2 + 5 = ___" written on it, then the skill has not been generalized to the natural environment so that it can be used in everyday tasks. In other words, make it real.
The perfect time for natural environment kind of teaching is during the summer. The students have a few weeks off and learning should continue so they do not forget or regress in the skills they will need during the next school year. This is the perfect time to shift some of the discrete types of skills over to a real-world application. The types of discrete or specific skills they have learned in math over the last school year could include:
Basic math facts
Measurement
Fractions
Money and consumer skills
Time
Map skills
With summer fast approaching, it is nice to have ideas for ways of incorporating math into summertime experiences – all depending on the academic level of your child. Here are 8 ideas for summer activities that will be the springboard for helping your child begin to integrate discrete math skills he or she has learned into real-world tasks.
1. Earn money through doing chores and start a savings account
Whether through washing the dog, helping mow the grass, helping clean the basement or painting a fence, provide your child with some work-related way of earning money in order to build functional money skills. Take him or her to the bank to open a savings account. The experience will teach real-world banking skills that may help instill healthy spending/saving habits.
2. Holding a yard sale or a running a lemonade stand
"If a pitcher of lemonade costs $1.50 to make, how much money will you earn from selling 8 glasses of lemonade at 50 cents a glass?" Build a lemonade stand and bring the math word problem to life. This is the way children with special learning needs learn best. It's also fun and a great way to make memories.
3. Using map skills to chart out a road trip
"Are we there yet?" Road trips are perfect ways to teach math skills. In addition, they teach real life functional skills. "How long will it take to get to Aunt Libby's if we drive 60 miles per hour, and it is 300 miles away?" "How many miles will it save it we take a detour around town?" Many math skills can be taught in one road trip. Do not waste the opportunity – create ways of experiencing math.
4. Build a small patio using tile bricks
Everyone loves summer projects. Here is an idea for one that will not only beautify your backyard but also get your children involved while strengthening their math skills. Picture this: you have a 15 ft. x 15 ft. area of ground on which you would like to build a patio. How many one-foot square tiles will it take to cover this much ground? Use graph paper to plot the design, and figure it out with your child! You not only end up with a child who has experienced the real life importance of measurement skills, but you also get a new patio out of the deal.
5. Build a fort
Wow, what better way to learn about measuring and basic geometry skills than building a fort! From measuring angles to measuring inches and feet, building projects are great ways to use real life skills to build math ability. Use graph paper to sketch out the fort. It doesn't have to be an elaborate building; start with something simple and easy enough for the child to be able to play a big role. Remember, the child should not be acting as an observer but as an active participant. Taking part is the only way to learn.
6. Plan and buy groceries for the week
What a great life skill! Start with a budget, go through the Sunday paper, clip all the coupons and make a list. Determine which store has the best prices, and calculate the prices using the coupons. Budget the amount, making sure to include tax. This helps the child learn the value of money, the role of tax on goods, and the value of sales and coupons. It will be a long shopping day, but what a great life lesson it will be!
7. Plan and purchase items for a party
Let's have a party! Create the opportunity to teach calendar skills, money, and measurement skills through this fun activity. Plan the time and date on the calendar. Use this to help the child learn how to count down the days, weeks, and months. You can even break it down further into time segments like hours and minutes. Next, plan the budget, including decorations, and food and entertainment costs. Divide these into the number of guests to determine exactly how much it will cost per person to host a party. Now, calculate the measurements. Be creative. How many balloons would you need if you want to have one balloon per yard around your driveway? What a great way to learn measurement skills! See, even a party can be educational and filled with math lessons.
8. Use a calendar to chart out when school starts back
This is a simple project, but you can cover many different types of skills involving time. Help your child use time and calendar skills to determine how many months, weeks, days, hours, minutes, and seconds he or she has before going back to school. It will be fun for the child to see that he or she may have over 6,000,000 seconds off before starting back to school.
Summertime is a time for family and friends. It is a time to relax and renew relationships with your children. It is also a great time to begin instilling in your child the importance of math. Try creating experiences that will show your child that math is more than a classroom activity-it is a skill he or she will use in everyday life.
Kolb, David A. (1984). Experiential Learning: Experience as the Source of Learning  
     and Development. Prentice-Hall, Inc., Englewood Cliffs, N.J.
Dewey, J. (1980). "The Middle Works, 1899-1924", p.161, SIU Press
---
Client Corner

Free access to the Autism Navigator® How-To Guide for Families
This online course is full of video libraries to illustrate how to promote learning and development of their child with ASD.  For more information about the Autism Navigator® How-To Guide for Families, please please view this brochure or visit the website: http://www.autismnavigator.com/how-to-guide/.  If you are a parent of a young child who is registered with FSU CARD and would like to request a code to the How-To Guide for Families, please click this link.
In addition to the online course, we will be offering the How-To Guided Tour which is a series of weekly online meetings led by FSU CARD and Autism Institute Staff. Caregivers can log in every week with other families and enjoy the guided tour through the online course, discussions about the topics covered, and an opportunity to ask questions. The new How-To Guided Tour will start on Wednesday, August 22 from 10:30-11:30 am EST (9:30-10:30 am CST), so be sure to get your FREE code and enroll before the Guided Tour starts!
Share with FSU CARD!
"CARD is continuously looking for clients who would like to share their art or writing pieces in our quarterly newsletter. If you are interested in sharing your work for our next issue, please send an image electronically to Tammy Dasher (tammy.dasher@med.fsu.edu) by September 4th, 2018. All pieces should be titled. Select pieces will be chosen for each edition of the newsletter; artists and authors will be notified if their piece is chosen."
Artist Spotlight: Noah Pitts
Our featured artist this quarter is Noah Pitts. Six-year-old Noah attends Blessed Star Montessori Christian School in Pensacola. His favorite subjects are math, science, and art. In his free time, he likes playing baseball with Miracle League of Pensacola, taking piano lessons, and playing video games on his tablet.
He enjoys building things that he imagines with K'nex and Legos. He loves any type of superhero, but his current favorites are the Lego Ninjago Ninjas. He has all the Lego Ninjago Ninja mini figures in his collection.
He participates in art classes at the Pensacola Museum of Art where he enjoys the variety of projects provided by Mrs. Elizabeth.
Noah's drawings are titled Ninjago Ninjas.
Autism at Work
By: Tammy Dasher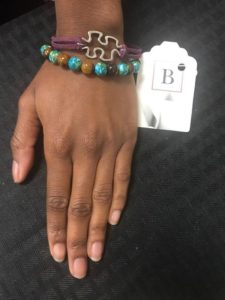 Nijah Proctor graduated from high school last month, the honor cord around her neck a symbol of four years of hard work in school. In addition to excelling in the academic arena, Nijah also has a foot in the business world. She is co-owner of Obsessions jwwm Gift Shop, located in Railroad Square Art Park.
The mission of Obsessions is to enhance employability and entrepreneurship skills for children and teens with special abilities, as well as those that are "typically developing." The shop features handcrafted products made by local entrepreneurs of all ages.
During April, Nijah designed leather bracelets featuring a puzzle piece to raise awareness for autism. She generously donated the proceeds from sales of this special bracelet to CARD for use in their work assisting clients, families, and professionals.
"My favorite parts about being at the shop are making gemstone bracelets and just seeing and visiting people that I know," Nijah comments.
The autism awareness bracelets as well as many other beautiful items are available at the shop year-round.
While attending classes at Tallahassee Community College this summer and into next fall, Nijah will continue to develop her artistic skills along with her entrepreneurial skills.
"One thing that I would tell someone who's running their own business is to have fun," Nijah states. "Don't worry about what others think or say about you. Just do it!"
Health and Nutrition
How to Change Habits WITHOUT Causing a Food Fight
By: Amy McCready
For every parent who has ever felt the frustration of trying to feed a picky eater without losing their cool, or caving into unhealthy habits, this message is for you.
Here's what we know – in today's world, there's not a lot of EXTRA time to go around. Certainly not enough to make a separate meal for a picky eater or get involved in a power struggle during what could be quality family time.
Fortunately, dealing with testy taste buds doesn't have to be a struggle for parents. There are practical and even fun ways to get persnickety children to expand their mealtime favorites list without causing a food fight.
---
Client Forms
---
ARCHIVED NEWSLETTERS
---