Dear Friends,
I am thrilled to be settling in my new role as director of the FSU CARD. I could not ask for a better team of people to work with or a better community of people. We have been very busy since my first day on August first, working with our clients, their families and educators as the new school year started, hosting the "Awakening the Autism Entrepreneur" workshop, and continuing to provide services to all 18 counties. I made my first trip to our satellite offices in Pensacola and Panama City right before Hurricane Hermine blew through and was able to meet with the staff and key community partners in the western panhandle. I look forward to meeting more of our clients, families, educators and other CARD stakeholders and hear how we are doing and what we can do to improve our service delivery. If you have any comments to share, I welcome them and encourage you to email me: Catherine.Zenko@med.fsu.edu
We are in the process of developing systems to make our four main service delivery categories easier to access and track. Just a reminder, these categories are:
1-    Direct, individual, short-term consultation to clients and their families
2-    Technical assistance to agencies and schools to help support the staff in providing quality
supports and experiences to individuals with autism spectrum disorder and related disabilities
3-    Family and professional training opportunities
4-    Public education and awareness about autism and related disabilities
We are creating a variety of ways for people to request any one of the services above, concentrating on online forms that are easily accessible to all. We hope to roll out all of our new procedures by the end of 2016, so stay tuned for more information.
We have several events planned in the next few months and hope you can join us. We have our first PEPSA workshop scheduled for November 7 in Panama City; we are partnering with Santa Rosa County Schools to bring Jessica Minahan to speak about anxiety-related behavior in students in October; and we have an artist in residency program staring at the beginning of October in conjunction with VSA Florida, just to name a few.
We want to celebrate our clients and showcase their talents, starting with a regular spot on our newsletter called "Client's Corner." If you would like to be featured in our upcoming newsletter, please submit your entry by December 5, 2016 to Tammy Dasher, here.
I look forward to meeting and interacting with the FSU CARD community and appreciate the warm welcome I have received!
Sincerely,
Catherine Zenko, M.S., CCC-SLP
Director, FSU CARD
---
PEPSA/DOE Partnership Program
The Partnership Program is designed to provide training and technical assistance to educators or a school program that aims to enhance the educational program for students with autism spectrum disorder (ASD). Each educator or school will be matched to a Center for Autism and Related Disabilities (CARD) professional who will mentor the educator or school staff in developing a plan for implementing innovative and effective practices within educational programs for students with ASD. The CARD staff partner will provide support, resources, technical assistance, and training that is specific to the needs identified by the educator or school.
View Flyer >>
View Application >>
Visit Website >>
The Wes Kleinert Fair Interview Act
As of July 1, 2016, Florida is in the process of enacting the Wes Kleinert Fair Interview Act. This act has two parts, both of which are important to understand and both of which present options that may impact individuals with Autism Spectrum Disorder (ASD). The statewide Center for Autism and Related Disabilities (CARD) wants to ensure you make an informed decision in choosing, if you plan to take advantage of these options. For ease of reading, this document uses the word "you" to mean an individual with ASD. Parents of minors and guardians reading this may substitute "your child/ward" for the word "you."
The first part of the act will create a new identifier on a Florida driver's license, permit or identification card. Participation in this option is voluntary. To read the full fact sheet, click the link below.
View Flyer >>
24th Annual Statewide CARD Conference and PEPSA PreConference for Educators
Save the Date! January 20-22, 2017
Florida Hotel and Conference Center, Orlando Florida
View Flyer >>
Teen Social Skills Group (Ages 14-17) – Panama City, FL
Friday October 21, 4:00 PM at Bay County Public Library
More information coming soon.
Panama City Monday Meet-up
Monday October 12 at 3:30 at Panama City CARD Office
More information coming soon. 
View All Upcoming Trainings >>
---
Community Spotlight & Monthly Features
The Sharing Tree
The Sharing Tree provides donated new and gently used classroom materials at drastically discounted prices available for sale to the public. They also have monthly scheduled events such as art classes, socials, and special sales.
The Sharing TREE is a public/nonprofit partnership with Leon County Schools, Sustainable Tallahassee Inc., Leon County government, and Goodwill Industries-Big Bend. All Leon County public school teachers can shop for $20 worth of free classroom materials every month.
Carly J. Sinnadurai, Executive Director
218 E 3rd Ave Tallahassee, FL 32303
Monday Meet-Ups: High School Students – Tallahassee, FL
October Topic: Teasing/Bullying
Registration is required for each training every month. *A minimum of 5 clients must register in order to hold the scheduled class..
The October session will be held at the
Speech and Hearing Clinic,
201 W. Bloxham St. from 6:00-7:30PM.
For questions or to register, contact Tammy Dasher, here. Snacks will be served; please note any dietary restrictions.
Effective Strategies for Children with Anxiety-Related Behaviors
When: Thu, October 13, 2016, 5:00 PM – 6:30 PM
Where: The Russell Center @ Locklin Vo-Tech,
5330 Berryhill Rd., Milton, FL
Santa Rosa County Schools and FSU CARD are proud to present an evening with Jessica Minahan, special educator, behavior analyst, consultant and author of The Behavior Code (2012). Participants will learn the role anxiety plays in a child's behavior as well as preventative strategies to use. The training will translate clinical information into doable and easy to implement strategies, tools and interventions for reducing anxiety, increasing self-regulation, executive functioning and self-monitoring.
Register for this event >>
Stronger Together: Understanding and Capitalizing on the Relationship Between Self-Regulation & Executive Function With Individuals on the Autism Spectrum (PEPSA/CARD)
Presented by: Elana Himmelfarb
Hosted by: FSU CARD
"The intention of this seminar is to outline the dimensions of self-regulation and executive function, the relationship between these two vital functions, and strategies for strengthening both."
When: November 7, 2016, 8:30 am – 4:00 pm
Registration begins at 8:00 am
Where: FSU Panama City Holly Academic Center, 4750 Collegiate Drive Panama City, FL 32405
For more information please contact: Karen Williams at Karen.Williams@med.fsu.edu or 850-215-4330.
View Flyer >>
Register Online >>
---
Consultant Corner
Sarah Ward – Top Tips for Parents of a Student with Executive Function Challenges
By: Tammy Dasher, M.A., BCBA
Executive functioning skills are a set of mental skills necessary for getting things done. These skills are responsible for managing time, paying attention, planning, remembering, and juggling multiple tasks—all areas where we want our students to succeed in the upcoming school year. This video clip has Sarah Ward's quick tips for parents and teachers to help students improve their executive functioning skills. Sarah Ward, MS CCC-SLP, is a much sought-after speaker for her knowledge and expertise in working with children, adolescents, and adults with developmental and aquired brain-based learning difficulties. She was a presenter at the 2015 CARD Conference. See her video, here.
Safety and Social Tips for Pokemon Go
By: Crystal Grey-Hewett, MSW
July 2016 brought us the release of Pokemon Go, to unexpected and unprecedented reception. It seems like everyone is playing it, from the grandmother to the coworker to the kid that lives in your house and steals your phone (just me?). It is also opening up new and interesting opportunities for exploration of your community and social interaction… Read More
Motivate your Student with Power Cards!
By: Megan Miller, PhD, BCBA-D
Power Cards, created by Elise Gagnon, provide a visual reminder to students with autism based on the student's motivation. The card includes a picture of the student's interest and a few sentences written in the first person that provide direction to the student about following expectations in a specific activity or setting. Power cards can be created for any challenging situation that your students face… Read More
---
Client Corner
CARD is looking for clients who would like to share their art or writing pieces in our quarterly newsletter. If you are interested in sharing your work for our December issue, please send an image electronically to Tammy Dasher (tammy.dasher@med.fsu.edu) by December 5th, 2016. All pieces should be titled. Select pieces will be chosen for each edition of the newsletter; artists and authors will be notified if their piece is chosen.
Client Spotlight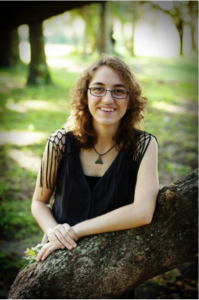 Bailey Houghton.
19-year-old Bailey Houghton is a freshman in the Honor's Program at
Florida State University where she is seeking a degree as a studio art major. January 2016, during her senior year at Leon High School, she was awarded as one of the VSAFL Art Students of the Month in January for her sketch of a Grey Fox.For six years, Bailey has been honing her skills through art camps, piano lessons and school choruses. While in high school, she participated in the Leon High School Capital Singers, was a vital member of both the Art and Culture Clubs and a volunteer at LeMoyne Art Gallery. Currently, Bailey continues to fine tune her drawing and writing skills, and is studying French. She is hoping to seek out a career at Pixar in the art or story department.
---
Client Forms
---
Health and Nutrition!
According to the Centers for Disease Control and Prevention (CDC), obesity is 50 percent more common in teens between the ages of 12 and 17 who have developmental disabilities like autism than it is for others. To help combat this issue, The Kohl's Autism Awareness Program at Children's Specialized Hospital in New Jersey developed an app called Healthier Me. Read More
---
ARCHIVED NEWSLETTERS
---
CARD Training Information