Dear Friends,
Happy Fall! We hope you are enjoying the slightly cooler weather and are staying safe and healthy during the start of the 2021-22 school year. We are continuing to offer several trainings and consultations virtually via Zoom or Microsoft Teams, while slowly starting in-person visits again. The travel ban we were under last year from Florida State University has been lifted, however we are continuing to utilize online resources whenever possible this year. You will see several online learning opportunities listed in the newsletter. We hope you will find something that interests you and join us.
One of the online opportunities we want to highlight is the 29th Annual Statewide CARD Conference. Registration is open for the 29th Annual CARD Conference which will be virtual again this year. There is an outstanding lineup of speakers. We hope you take advantage of this excellent learning opportunity. For more information, see the article below.
It is with mixed emotions that I share the news that Ms. Tammy Dasher, our beloved CARD consultant in the Tallahassee office, has taken a new position as the Program Director with NextStep at Endeavor Academy. NextStep is a transition program for adults with autism in Marianna, Florida that is scheduled to open in early 2022. We are sad to lose our colleague and another member of our team, but so proud of her. We are excited to support her and watch how she helps bring this much-needed opportunity for our adults with autism in the Florida panhandle. As you can imagine, this leaves another significant gap in our staff, so please be patient with us as we rebuild. We are currently working with the FSU Human Resources office to advertise for three autism consultant positions to fill vacancies across the panhandle. We are grateful that Tammy will continue to help with trainings and seminars this fall as we conduct our search for new staff.
As always, we have selected some informative articles to share with you—one on executive function strategies and another on nutrition. They both are timely for fall with the new school year and the upcoming Halloween holiday.
We've updated our website to include a calendar and list of events on the homepage, as well as adding a Frequently Asked Questions (FAQ) page that was inspired by the article in the Special Edition Back-To-School Newsletter in July. Please be sure to take a look at: 
www.fsucard.com.
I do hope we see you at one of the many online trainings we are offering this fall. Please feel free to reach out to me at any time with questions, comments, or concerns. We always strive to provide the best possible support to our clients, families, and community members and appreciate your feedback to help us continue to be the best we can.
Sincerely,
Catherine Zenko, M.S., CCC-SLP
Our social media accounts are listed below. Please follow us on your preferred social media platform to get the most up-to-date information.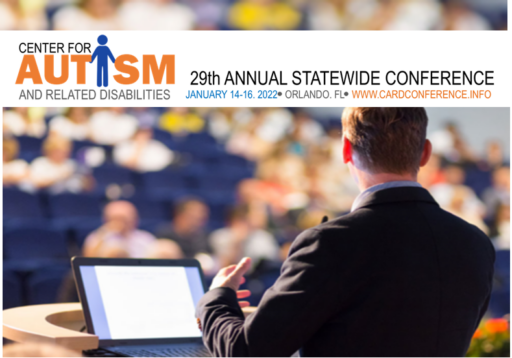 29th Annual Statewide CARD Conference
January 14th – 16th, Online
We are happy to announce that the 29th Annual Statewide CARD Conference will be returning January 14th-16th, 2022. The conference will again be offered virtually, with a variety of topics relevant to people on the autism spectrum, their family members, educators, and anyone else who wants to know how to support the autistic people in their community. We are proud to announce that FSU CARD's own Crystal Grey-Hewett and Allison Leatzow will be presenting on "Autism and Libraries: Creating Effective Partnerships". In order to get more information or register for the conference, please go to https://pheedloop.com/CARD2022/site/home/. We look forward to seeing you there!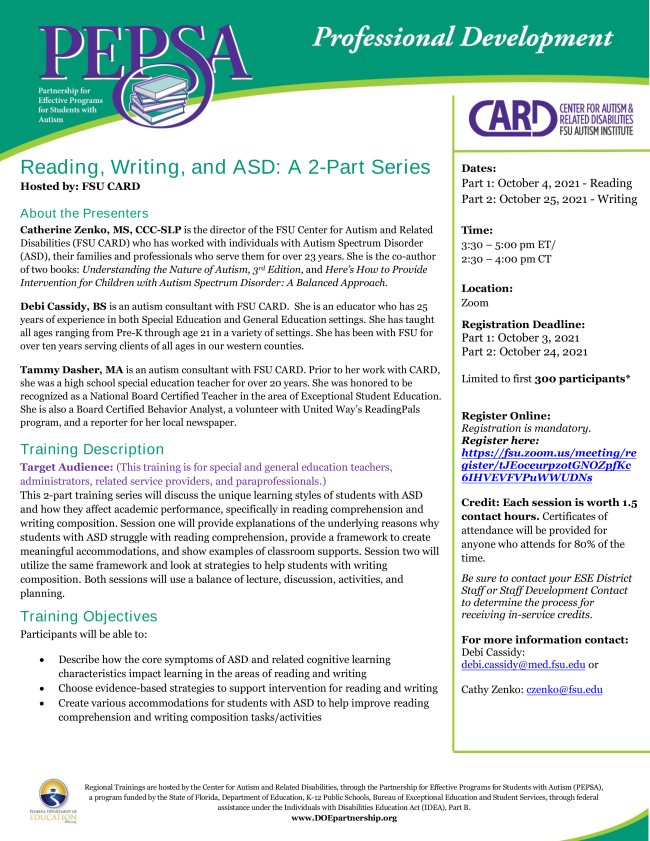 PEPSA: Reading, Writing, and ASD: A 2-Part Series
October 4th & October 25th
3:30PM – 5:00PM ET; 2:30PM – 4:00PM CT
This 2-part training series will discuss the unique learning styles of students with ASD
and how they affect academic performance, specifically in reading comprehension and
writing composition. Session one will provide explanations of the underlying reasons why
students with ASD struggle with reading comprehension, provide a framework to create
meaningful accommodations, and show examples of classroom supports. Session two will
utilize the same framework and look at strategies to to help students with writing
composition. Both sessions will use a balance of lecture, discussion, activities, and
planning.
Please join us, and contact Debi Cassidy or Cathy Zenko for more information at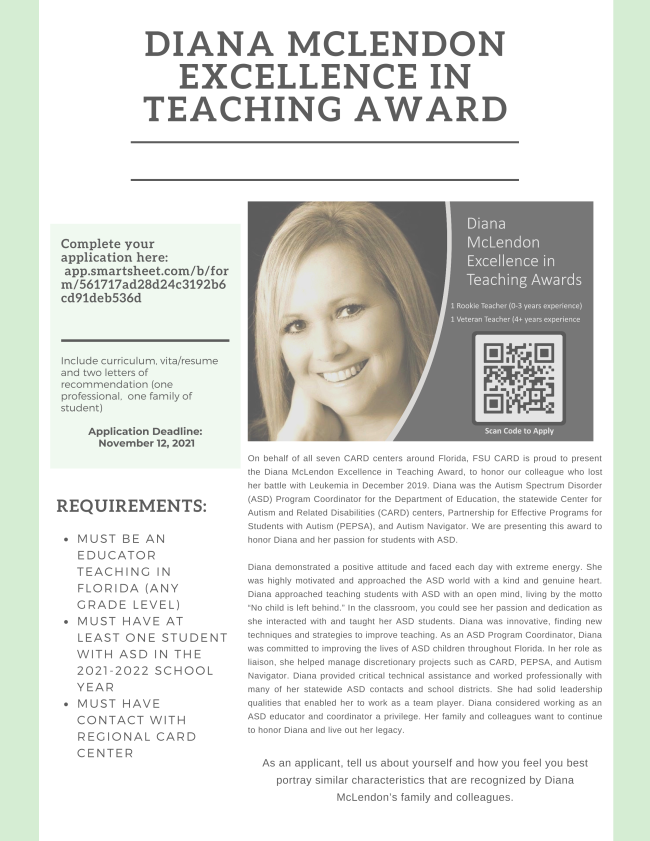 Diana McLendon Excellence in Teaching Award
Calling All Teachers of Students with ASD
Apply now for the 2021-2022
Diana McLendon Excellence in Teaching Memorial Award
Application Deadline: November 12, 2021
Award amount: $500
This award is being offered in the memory of Diana McLendon who lost her battle with Leukemia in December 2019. Diana was the Autism Spectrum Disorder (ASD) Program Coordinator for the Department of Education, and the liaison for the statewide Center for Autism and Related Disabilities (CARD) centers, Partnership for Effective Programs for Students with Autism (PEPSA), and Autism Navigator. FSU CARD is proud to set up this memorial award to honor our colleague Diana on behalf of all seven CARD centers around the state. We are presenting this award to honor Diana and her passion for students with ASD.
Autism Navigator for Classroom Success in Pre-K Through 2nd Grade
Calling all regular education and special education teachers, district-level personnel, speech-language pathologists, occupational therapists, early interventionists, psychologists, behavior specialists, social workers, paraprofessionals, college students, and anyone else interested in learning about students with autism.
6-weeks webinar series begins
Wednesday, October 20th
3:30- 5:00 ET / 2:30 – 4:00 pm CT
This webinar is a companion to Classroom Success course, but anyone interested can attend. Participants will learn about an evidence-based framework to prioritize goals using a lens of active engagement and a layer cake of teaching strategies to promote learning and positive behavior. To achieve the intensity needed and promote generalization for students with autism, the importance of teaching and learning across everyday classroom activities will be highlighted. Video examples and audience participation will be used to illustrate how to apply this model to both in-person and virtual classrooms, and to teach parents strategies to support their child's learning in everyday activities at home.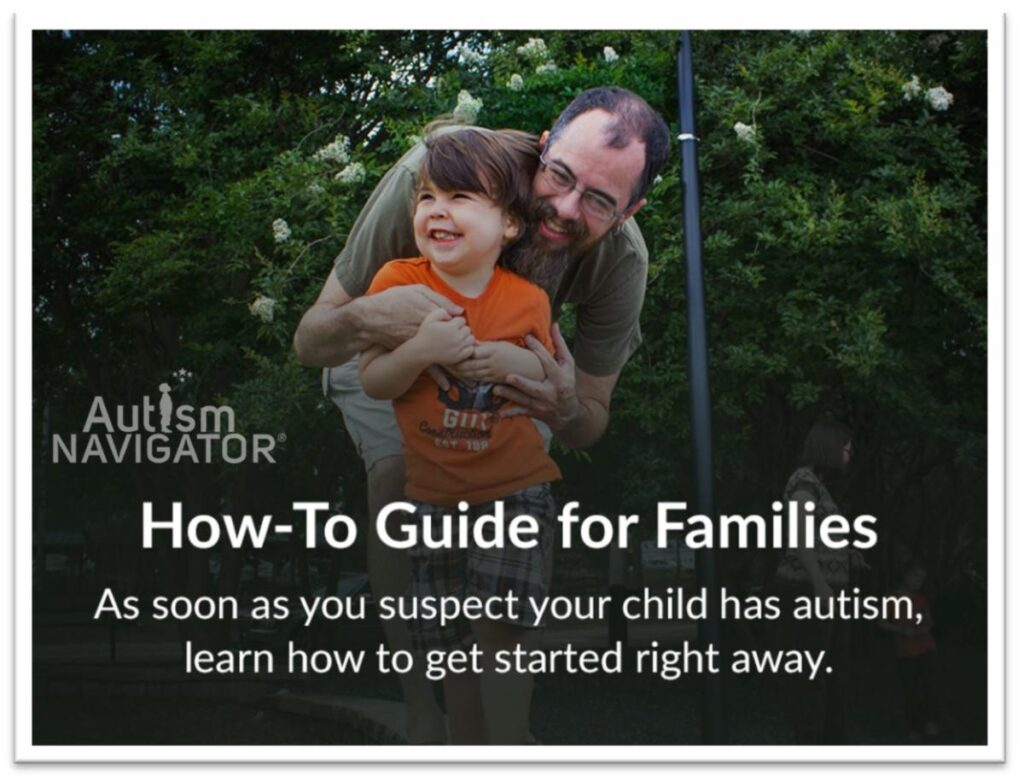 How-To Guide for Families
Calling all families and caregivers of young children with autism
2nd and 4th Tuesday of each Month
1:00 – 2:30 PM EST
Check out this free webinar from our colleagues at Autism Navigator. This webinar is for families of children 1 to 8 years of age who are concerned about their child's social communication development, challenging behavior, or possible autism, or anyone interested in learning more about autism.
Be sure to request your FREE code to the How-To Guide for Families course
after attending the webinar.
Farewell to CARD
By: Tammy Dasher
The first time I met a CARD consultant the sky was a bruised gray, and my classroom was bright and cozy the way lighted rooms are on rainy days. Debi Cassidy arrived right on time, despite having spun her car into the median during the downpour on her way to meet with me. Spun but not shaken, she put the scare away and we got right to work on my PEPSA partner plan. The next school year, I joined this intrepid band of former special ed teachers, SLP's, school psychologists, behavior analysts, and social workers.
Eight years later, I am saying goodbye to FSU CARD. I have accepted the Program Director position with NextStep at Endeavor Academy, a transition program for adults with autism scheduled to open in Marianna early in 2022.
During my eight years with CARD, I traveled the byways and highways of the Florida Panhandle. I visited sweet little country schools with wooden floors older than my grandma. I walked the halls of crowded inner-city schools that rang with shouts louder than the school bells. I sat with parents who had just learned of their three-year old's autism diagnosis and I comforted middle school parents whose children were being bullied. I helped high school students with college applications, and I educated employers about strategies to help adult clients succeed at work. I taught social skills trainings for teens and adults every semester, helping them apply skills in the classroom, at Food Truck Thursday, and even at an indoor rock-climbing venue. I trailed an interpreter through a field to reach a migrant family whose son needed help. I sat in hundreds of classrooms and trained hundreds of gen ed teachers, bus drivers, art teachers, PE teachers, administrators, and employers. I met with doctoral students at FSU's counseling center annually, and I supported over 100 graduate student clinicians from FSU's School of Communication Science and Disorders in what was for many of them their first experience working with adults with autism.
I attended CARD Conferences where I met Temple Grandin, Steve Silberman, Sarah Ward, Jessica Minahan, and many other amazing members of the autism community. I was greeted at every single CARD Conference by James, recorder in hand. I was honored to present at the CARD Conference myself, alongside my own PEPSA partners and solo on the subjects of ESE teacher burnout and women with autism. I learned. A lot.
Pre-COVID, I spent many hours on the road as I served CARD clients in my assigned counties. Post-COVID, I spent many hours on Zoom as I served CARD clients in all 18 counties of our catchment area, as well as all the others throughout the state that we opened our online trainings to free of charge.
I will always be thankful for my time with CARD. It has been my great privilege to work alongside the dedicated FSU CARD consultants. They truly do show up in rain and sleet—and I'm sure snow would be included if we didn't live in Florida!
I will also always be proud of my time with CARD. I have seen first-hand how a very small number of people work tirelessly to provide free services for clients, families, and professionals. Like teaching, which I did for 21 years, being a CARD consultant is a hard job with very few "atta girls." Being a special ed teacher or a CARD consultant is not a job to take if you need a lot of warm fuzzy affirmations! But day after day, the CARD ladies strive to provide assistance to their clients—and the type of well-researched, evidence-based, professional assistance that all of them could earn much more doing in private practice. They do it because they truly care. They have my respect always for their adherence to CARD's mission.
More than anything else, though, it has been a joy to serve the clients and parents I've met during my time with CARD. They entrusted me with their biggest challenges, and they invited me to share in their greatest accomplishments. I am honored to have known each of you.
I have been fortunate in my life to have forged a career that never feels like "work" to me. Even after 29 years in the field, I am still so happy to be in this profession. Though there have been hard days, not one day goes by when I do not smile over a good thing happening for one of my former students or clients.
Change is always hard…but I am excited to take these "next steps" to see how local opportunities can improve for adults with autism. Though I am saying goodbye to CARD, parents and clients can feel free to email me at 
[email protected]
.
Please keep in touch!

Sincerely,
Tammy
Video: When to let kids "FAIL"? (Executive Function, ADHD)
By: Seth Perler

A parent writes: "Natural consequences… one of my takeaways from the summit was to not be my kid's executive function(at least as much), and allow natural consequences to happen. Yesterday was a test for me. My daughter started community college two weeks ago.
Yesterday, she had classes start at 8a. Her alarm went off at 7a. And again at 7:09a. Then silence. I told her the night before I'd give her a ride as long as she was ready by 7:30a. But after that, I had commitments. At 7:19a I started getting anxious. At 7:24a I was irritated. I watched the clock tick down reminding myself not to save her. That was hard."
WHEN can we let kids "Fail Safe? When is it rescuing? Enabling? Saving? Maladaptive?, Helping too much or not enough?
Here I explain several core concepts to empower you.
Full Video HERE<<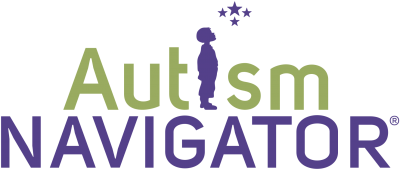 Free access to the Autism Navigator® How-To Guide for Families
FSU CARD is pleased to continue to offer free access to our CARD families with young children not yet old enough to enroll in kindergarten to the online Autism Navigator®  How-To Guide for Families course. This self-paced course will teach caregivers how to use strategies and supports in their everyday activities as well as provide them with access to a variety of "tools" to chart their child's developmental growth and monitor meaningful outcomes.  This online course is full of video libraries to illustrate how to promote learning and development of their child with ASD.  For more information about the Autism Navigator®  How-To Guide for Families, please visit their  website .  If you are a parent of a young child with FSU CARD and would like to request a code to the How-To Guide for Families, please click this  link:  https://firstwords.fsu.edu/card_h2g/sign_up.php 
In addition to the online course, parents that enrolled in the How-To Guide for Families, will be invited to join a weekly meetup (a Guided Tour) where parents will have the opportunity interact with other families with similar issues from the convenience of their computer, phone or tablet.  We hope to start the next CARD facilitated How-To Guided Tour as soon as 10 to 12 families express an interest in getting one started.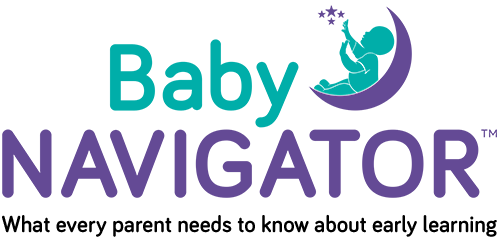 The Executive Director of FSU CARD and Director of the College of Medicine's Autism Institute, Dr. Amy Wetherby, launched a new website, BabyNavigator.com, that walks parents through early childhood development and alerts them to early signs of autism.
Click on the article below for more information. HERE →
Share with CARD!
FSU CARD is continuously looking for clients who would like to share their art, writing pieces, or success stories in our quarterly newsletter. If you are interested in sharing for our next issue, please send a message and image electronically to Crystal Grey-Hewett ([email protected]). All art or writing pieces should be titled. Select submissions will be chosen for each edition of the newsletter; artists and authors will be notified if their article is chosen.
Client Corner Newsletter Feature: All In a Day's Work: Hayden Edelman
By:  Debi Cassidy

This month it is our privilege to spotlight Ms. Hayden Edelman.
Hayden is currently working two jobs while taking online classes to complete her bachelor's degree. She is a hostess and a service assistant at a local restaurant and has recently begun working as a teaching assistant in a kindergarten/1st grade classroom for students with autism spectrum disorder. Hayden has always loved being with children and states that one of the highlights of her day is seeing the joy on the children's faces when they complete their work and get it right. She says it reminds her of herself when she was younger.
Hayden credits her mom, Kelly, for setting her up for success. Her mom has been instrumental in teaching her the tools she needs and has always been her biggest supporter. "She always had high expectations of me and taught me how to be responsible" Hayden states. "I would not be where I am today if I had a different mom."
Hayden recently celebrated her 21st birthday at Universal Studios with her boyfriend. She lives life to the fullest and is proof that hard work pays off.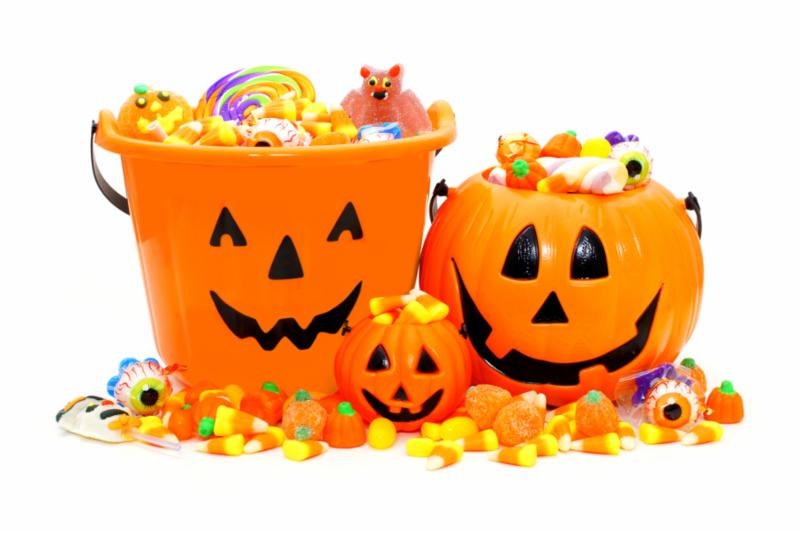 This article from Psychologytoday.com outlines strategies to avoid overeating Halloween candy.
The 9 Best Ways to Avoid Overeating Halloween Candy Halloween candy coma prevention: nine expert tips
By Susan Albers Psy.D. –

1. SWITCH IT UP: You often are thinking about the next piece of candy before finishing the one you have. To slow down and enjoy each piece of candy as you are eating it, eat with your non-dominate hand (if you are left handed, eat with your right). This will help prevent you from mindlessly popping candy into your mouth. Research indicates that this simple swap can cut down on how much you eat by approximately 30%. –Dr. Susan Albers, author of the National Bestseller, EatQ".