Dear Friends,
It is hard to believe it is almost summer. I think we all need to give ourselves and everyone around us a pat on the back for making it through this school year. Hats off to all the teachers, students, and parents out there who managed to wade through the virtual and brick and mortar labyrinth of uncertainty and make it out on the other side! This year and a half has shown us what we can endure, taught us a masterclass in resilience, and brought out some amazing creativity from thinking outside the box.
One of the silver linings that we learned during COVID-19 and will continue to utilize, is the power of online training. I know some people may be sick of doing things online, but it allows us to offer several training opportunities to anyone in our 18 counties and beyond. This newsletter is filled with all of the upcoming trainings during the summer, so please be sure to scroll through and see what interests you.
We're excited to share that registration for the 2021 Summer Training Institute on Autism is open and available to anyone! We have an amazing line up of speakers and topics that you won't want to miss, and you can enjoy all 3 days from the comfort of your home or office. The Institute is FREE via Zoom, but you need to register for each day.
Finally, I am sad to report that Dr. Chrissy Ogilvie, our beloved CARD consultant in the Pensacola office, had to resign this spring due to medical reasons. We would like to invite any of our clients, families, professionals, and community members who had the privilege of working with Chrissy to join us in creating a book of gratitude for the years of service and dedication to the autism community.
Please enjoy the summer and stay safe. We hope to see you at one of our trainings!
Sincerely,
Catherine Zenko, M.S., CCC-SLP
Our social media accounts are listed below. Please follow us on your preferred social media platform to get the most up-to-date information.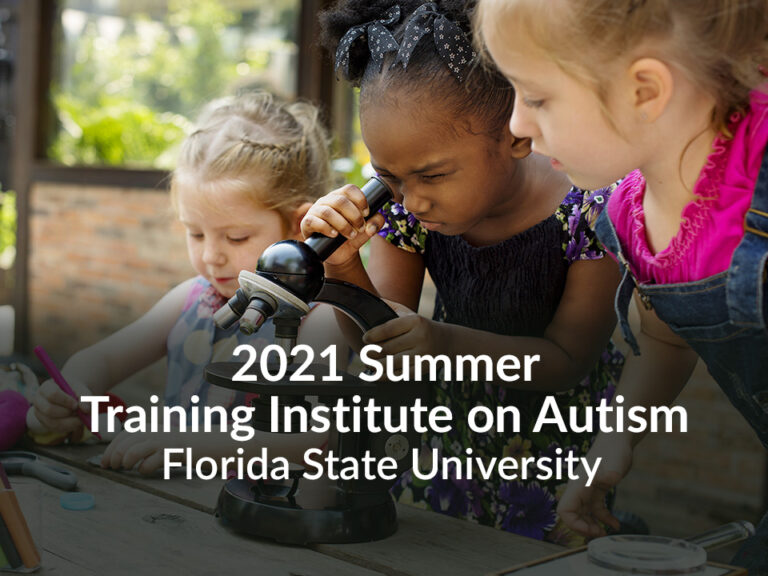 2020 Summer Training Institute on Autism
June 15th – 17th, Via Zoom
Mark your calendars for the 2021 Summer Training Institute on Autism. We have an exciting lineup of speakers and topics. As soon as we finalize all of the details, we will send out the full brochure.
After such a positive response to the unexpected need to shift the Summer Training Institute on Autism to online last year, we decided to keep the virtual format to accommodate people from near and far.
Keep an eye on your inbox for the full brochure coming soon.
---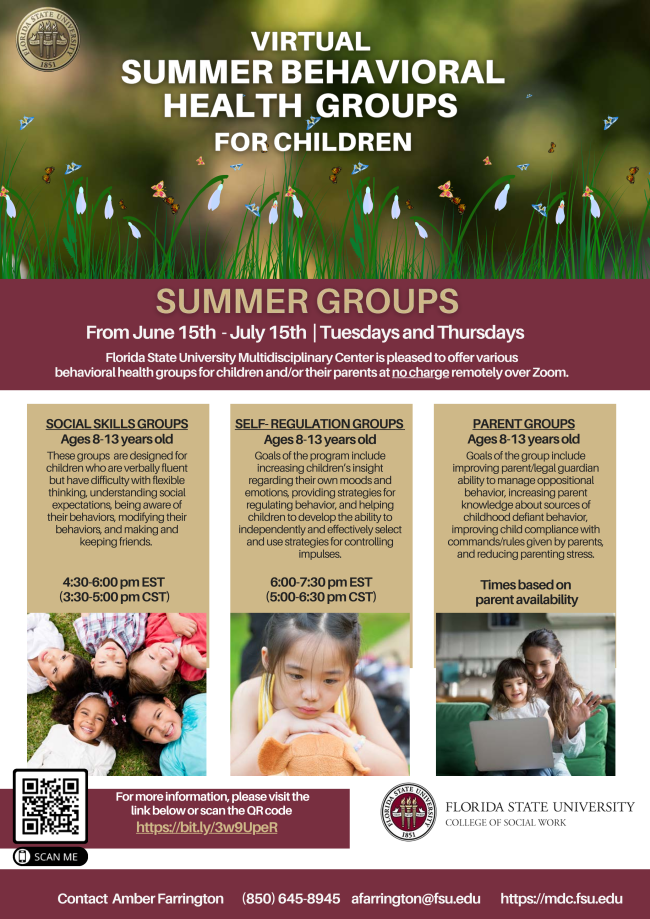 Virtual Summer Behavioral Health Groups For Children
Tuesday and Thursday Evenings, June 15th – July 15th
See Various Times
This summer FSU Multidisciplinary Center will be offering
virtual behavioral health groups for children.
There are three different groups that focus on social skills, self-regulation,
and parenting tips. Each class is free of charge.
Please join us, and contact Amber Farrington for more information at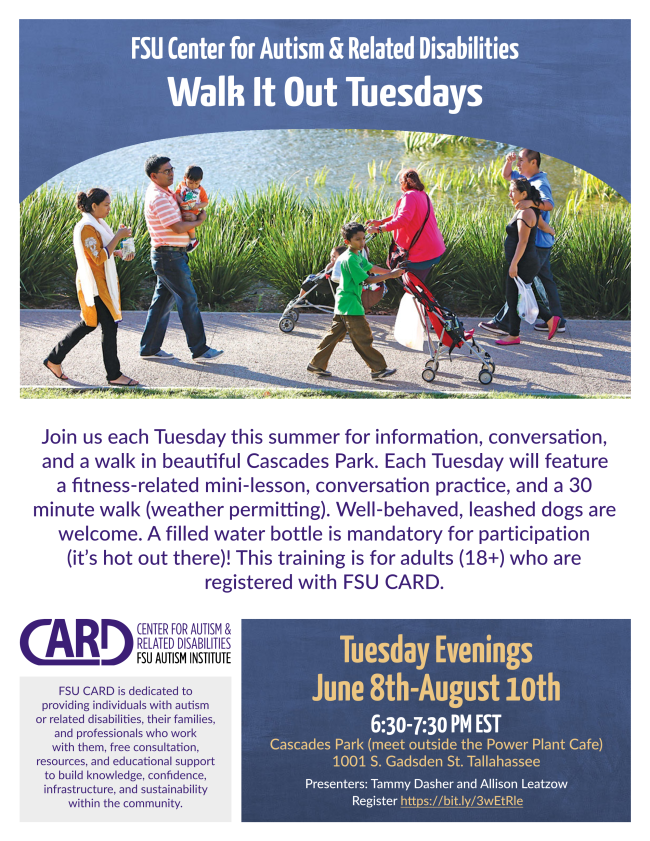 Walk It Out Tuesdays
Tuesday Evenings, June 8th – August 10th
6:30 – 7:30 PM EST
Join us each Tuesday this summer for information, conversation, and a walk in beautiful Cascades Park. Each Tuesday will feature a fitness-related mini-lesson, conversation practice, and a 30 minute walk (weather permitting). This training is for adults (18+) who are registered with FSU CARD.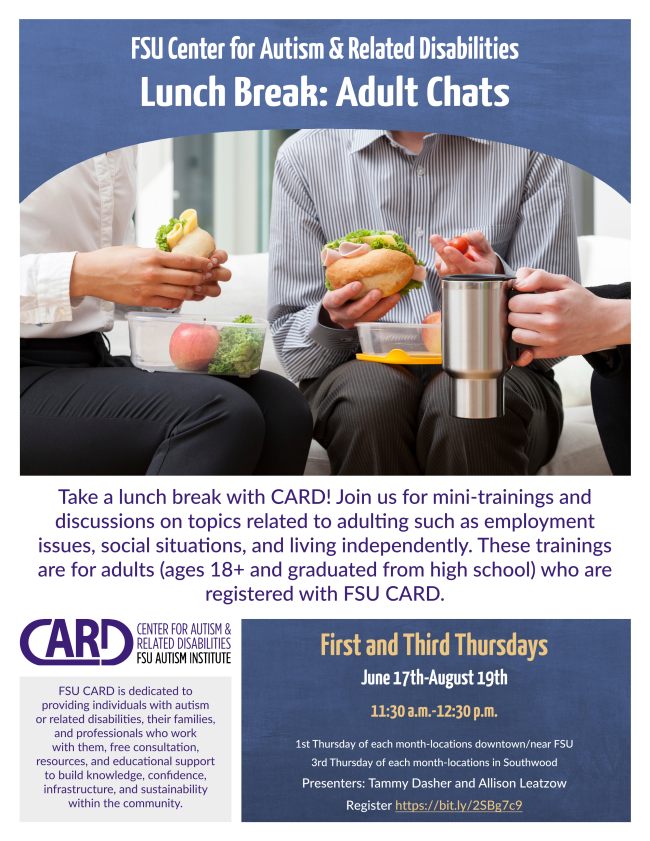 Calling Adults Registered with FSU CARD
First and Third Thursdays, June 17th – August 19th
11:30 AM – 12:30 PM EST
Take a lunch break with CARD! Join us for mini-trainings and discussions on topics related to adulting such as employment issues, social situations, and living independently. These trainings are for adults (ages 18+ and graduated from high school) who are registered with FSU CARD.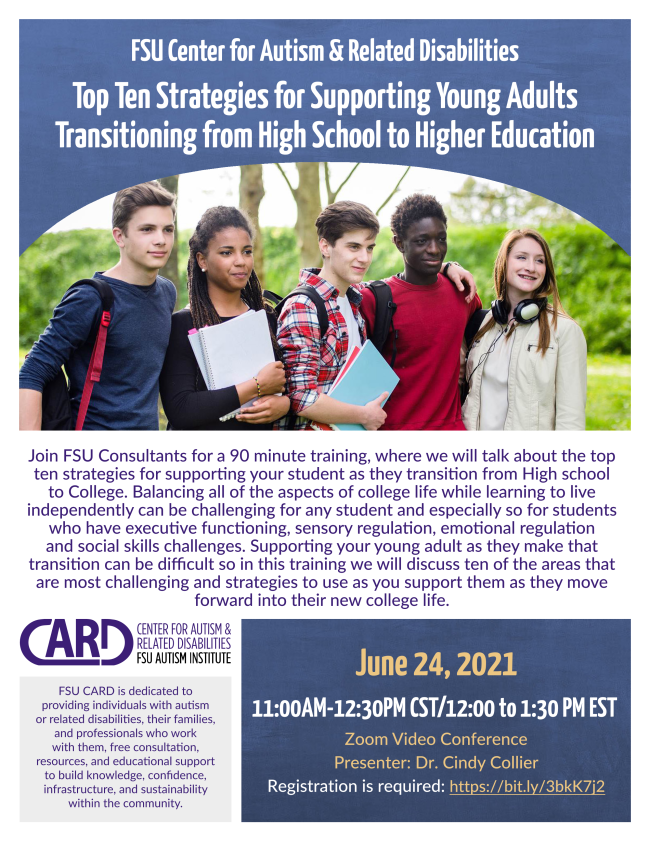 Top Ten Strategies for Supporting Young Adults Transitioning from High School to Higher Education
Thursday, June 24th
11:00AM-12:30PM CST/12:00-1:30 PM EST via Zoom
Join FSU Consultants for a 90 minute training, where we will talk about the top ten strategies for supporting your student as they transition from High school to College. Balancing all of the aspects of college life while learning to live independently can be challenging for any student and especially so for students who have executive functioning, sensory regulation, emotional regulation and social skills challenges. Supporting your young adult as they make that transition can be difficult, so in this training we will discuss ten of the areas that are most challenging and strategies to use as you support them moving forward into their new college life.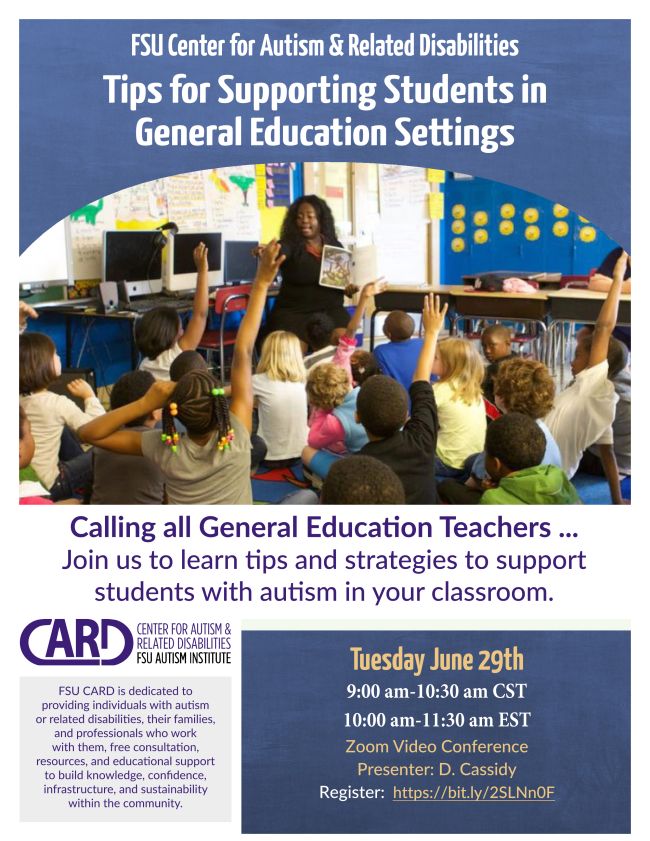 Tips for Supporting Students in General Education Settings
Tuesday, June 29th
9:00AM – 10:30AM EST
Join us to learn tips and strategies to support students with autism in your classroom.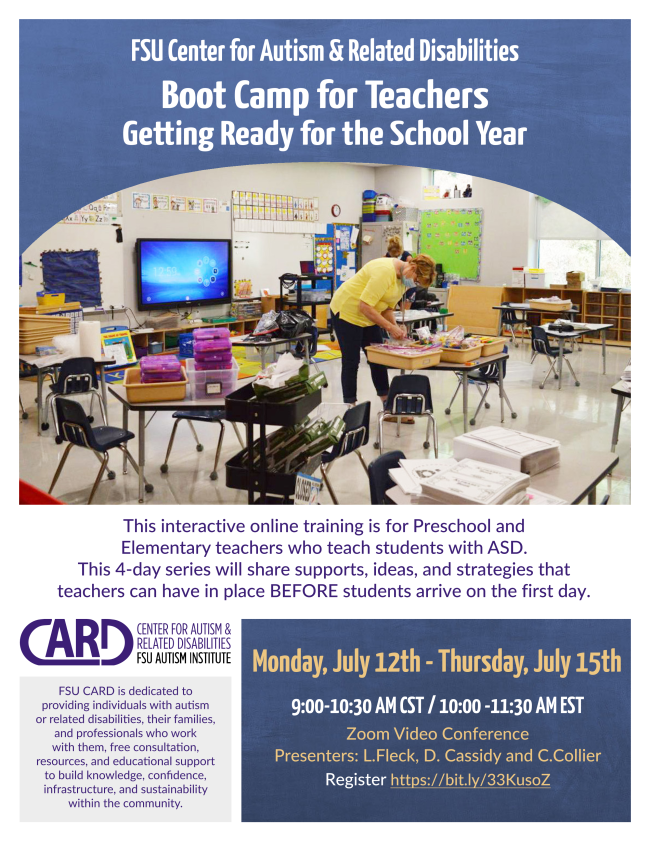 Boot Camp for Teachers- Getting Ready for Another School Year
Each morning, July 12th – July 15th
9:00 – 10:30 am CST/ 10:00 – 11:30 am EST
 This interactive online training is for Preschool and Elementary teachers who teach students with ASD. This 4-day series will share supports, ideas, and strategies that teachers can have in place BEFORE students arrive on the first day. 
Autism Navigator for Classroom Success in Pre-K Through 2nd Grade
Calling all regular education and special education teachers, district-level personnel, speech-language pathologists, occupational therapists, early interventionists, psychologists, behavior specialists, social workers, paraprofessionals, college students, and anyone else interested in learning about students with autism.
6-weeks webinar series begins
Wednesday, July 21st
3:30- 5:00 EST
This webinar is a companion to Classroom Success course, but anyone interested can attend. Participants will learn about an evidence-based framework to prioritize goals using a lens of active engagement and a layer cake of teaching strategies to promote learning and positive behavior. To achieve the intensity needed and promote generalization for students with autism, the importance of teaching and learning across everyday classroom activities will be highlighted. Video examples and audience participation will be used to illustrate how to apply this model to both in-person and virtual classrooms, and to teach parents strategies to support their child's learning in everyday activities at home.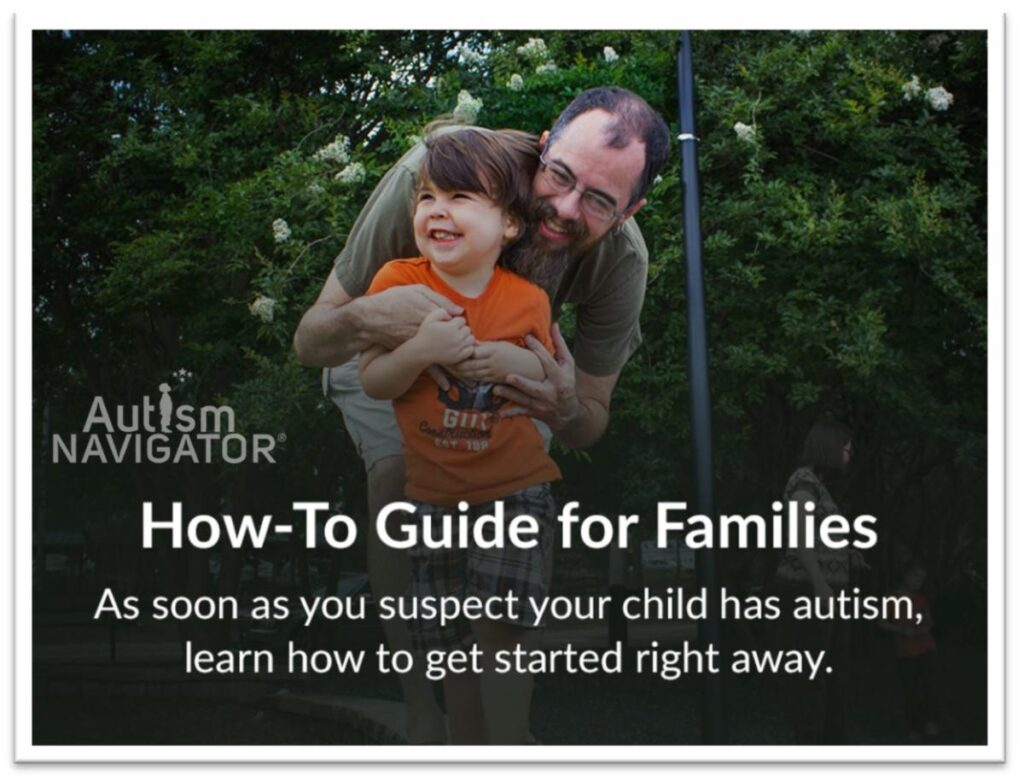 How-To Guide for Families
Calling all families and caregivers of young children with autism
2nd and 4th Tuesday of each Month
1:00 – 2:30 PM EST
Check out this free webinar from our colleagues at Autism Navigator. This webinar is for families of children 1 to 8 years of age who are concerned about their child's social communication development, challenging behavior, or possible autism, or anyone interested in learning more about autism.
Be sure to request your FREE code to the How-To Guide for Families course
after attending the webinar.
Good-bye to Dr. Chrissy Ogilvie
By: Tammy Dasher
Dr. Chrissy Ogilvie, one of our CARD consultants serving the Pensacola office, had to resign this spring due to medical reasons. She will be greatly missed by her clients, co-workers, and community collaborators.
Since 2014, Chrissy has worked nonstop to meet the needs of individuals with autism in the Pensacola area. As a former middle school classroom teacher, she had a teacher's heart for making social skills trainings fun and informative for the teens who attended her events. She worked tirelessly for the children and adults she served as well.
Chrissy was instrumental in establishing partnerships with many community and business leaders, including the National Flight Academy and Sartori Sailing. The teens who attended programs at the Flight Academy experienced once-in-a-lifetime opportunities to learn about flying. The sailing trips she organized with Sartori were thrilling adventures for the children who enjoyed them. Chrissy collaborated with the Pensacola Museum of Art to host an art show that displayed the talent of individuals with autism from around the state.
In addition to her work with clients and parents, Chrissy also led many professional development trainings for teachers and administrators in Escambia and Santa Rosa Counties. She instructed and mentored countless college students, instilling in them her passion for working in the field of special education.
As a colleague, Chrissy was always ready to lend a hand—no matter how much she already had on her own to-do list. Her sense of humor, techie skills, and devotion to her clients were appreciated by all who worked alongside her over the years.
We would like to invite any of our clients, families, professionals, and community members who had the privilege of working with Chrissy to join us in creating a book of gratitude for her years of service and dedication to the autism community. Please use this link to share your well wishes, memories, and photos with us by the end of June so we can put all the messages and photos together for Chrissy.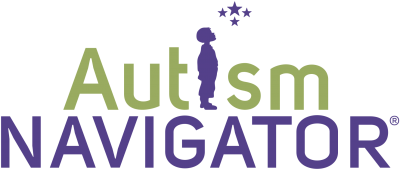 Free access to the Autism Navigator® How-To Guide for Families
FSU CARD is pleased to continue to offer free access to our CARD families with young children not yet old enough to enroll in kindergarten to the online Autism Navigator®  How-To Guide for Families course. This self-paced course will teach caregivers how to use strategies and supports in their everyday activities as well as provide them with access to a variety of "tools" to chart their child's developmental growth and monitor meaningful outcomes.  This online course is full of video libraries to illustrate how to promote learning and development of their child with ASD.  For more information about the Autism Navigator®  How-To Guide for Families, please visit their  website .  If you are a parent of a young child with FSU CARD and would like to request a code to the How-To Guide for Families, please click this  link:  https://firstwords.fsu.edu/card_h2g/sign_up.php 
In addition to the online course, parents that enrolled in the How-To Guide for Families, will be invited to join a weekly meetup (a Guided Tour) where parents will have the opportunity interact with other families with similar issues from the convenience of their computer, phone or tablet.  We hope to start the next CARD facilitated How-To Guided Tour as soon as 10 to 12 families express an interest in getting one started.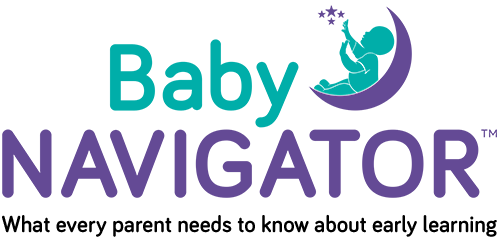 The Executive Director of FSU CARD and Director of the College of Medicine's Autism Institute, Dr. Amy Wetherby, launched a new website, BabyNavigator.com, that walks parents through early childhood development and alerts them to early signs of autism.
Click on the article below for more information. HERE →
Share with CARD!
FSU CARD is continuously looking for clients who would like to share their art, writing pieces, or success stories in our quarterly newsletter. If you are interested in sharing for our next issue, please send a message and image electronically to Tammy Dasher ([email protected]). All art or writing pieces should be titled. Select submissions will be chosen for each edition of the newsletter; artists and authors will be notified if their article is chosen.
Client Corner Newsletter Feature: Master Musician: Matthew Cravener
By: Allison Leatzow
At the age of four, Matthew Cravener's dad overheard his son playing "Amazing Grace" on the toy piano they'd gotten him as a gift. It turns out he'd been listening to a gospel CD and had learned how to play some of the songs simply by ear. Mom and Dad then realized that to hone his skills their son needed a more sophisticated piano than the toy one he was playing on. By the age of six he was already playing live concerts at local venues.
Matthew was mostly self-taught throughout his childhood years. He had a few music teachers work with him, but he'd always get to a point where he exceeded what they knew to teach him. He eventually had the spouse of the FSU Marching Chiefs teach him theory and technique, which helped him develop a deeper understanding of his craft. It was during this time he was diagnosed with Autism Spectrum Disorder, Tourette Disorder, and Dyslexia.
Due to his Dyslexia, he never learned how to read music, and he has always played by ear. In his mid-teen years, his Tourette Disorder began to worsen, and he was essentially left incapacitated. He was unable to play the piano for nearly four years as he had little control over the erratic tic movements of his limbs. He practiced a great deal of meditation and various relaxation techniques to help him get through those challenging days. Once the tics began to subside in his late teens, he was once again able to pursue his passion of the piano.
Matthew has many accomplishments under his belt. Aside from several awards and distinctions, he's recorded two CD's and donated the proceeds to charitable causes close to his heart. He has scored for countless films and other productions. He scored the music for Deathless, a vampire series produced by Alignment Entertainment that's currently showing on Amazon Prime 
(https://www.amazon.com/Deathless/dp/B08NLDYCC4)
.
Another short film he scored, which is yet to be released, is A Day in the Life by Plastic Light Films Productions. An additional short film is Gambit, which is a noir genre film that's in the process of being submitted to several film festivals 
(https://www.youtube.com/watch?v=HjhISONZeN8).
An interesting diversion he took from films was to score the music for an immersive three-part play series in Savannah, Georgia, about Savannah's dark history called The Savannah Underground 
(https://www.thesavannahunderground.com)
. It was most recently voted best local theater production of 2021 by Connect Savannah.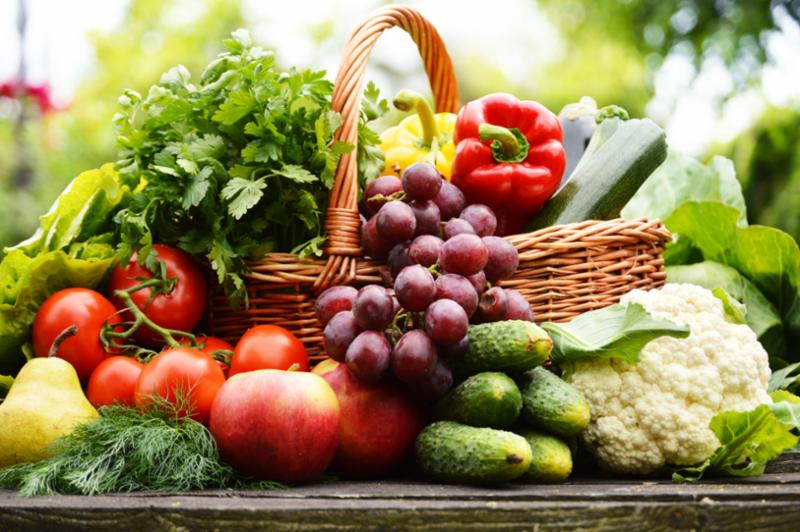 This article from 
Mayinstitute.org
 provides some guidance and strategies to make sure any picky eater has a healthy diet.
Expert Columns: Tips for Getting Picky Eaters to Try New Foods – May Institute
By Erica Kearney –
Many children, with and without developmental disabilities, are described by their parents to be picky, or selective, eaters.
Some selective eaters will only consume a small variety of foods. Most parents report that their children may only eat a few different foods, but their appetites are very good. In my experience, both as a professional working with students with developmental disabilities and as a parent of three very different eaters, chicken nuggets and French fries always seem to be kid-approved!
Why do children become selective eaters?….