Dear Friends,
I hope you are having a good start to the summer and finding a few ways to stay cool. It was a busy April, May, and June filled with multiple Public Awareness events for Autism Awareness/Acceptance month, several training events, and adding three new autism consultants to the FSU CARD team.
Our 5th Annual Kickin' It for Autism soccer clinic with the FSU Soccer Team was a huge success with over 135 registered participants and over 300 guests! We are so grateful to the FSU Soccer Team for continuing to help us level the playing field and provide a truly inclusive, fun community event. Click the link to see pictures from the event: https://www.facebook.com/fsucard/posts/.
In April, we partnered with the Leon County Sheriff Office (LCSO) to give away seat belt covers to individuals on the spectrum. LCSO purchased 1,000 seat belt covers for our community members with autism to help law enforcement officers identify citizens with autism. We can't thank LCSO enough for starting this autism-friendly initiative. To learn more about the seat belt covers and how to get one, go to our home page: https://fsucard.com/.
In June, FSU CARD partnered with our colleagues at the FSU Autism Institute; Autism Navigator, LLC; and the Partnership for Effective Programs for Students with Autism (PEPSA) to offer the 3-day 2022 Summer Training Institute on Autism via Zoom. We had over 400 participants online each day from around Florida, the United States, and around the world. Read all about the Summer Institute in the article below.
It is an honor to introduce you to our three new autism consultants that we added to our team this spring. Sonia Clark-Rosier is from Wakulla County, Dawn Merrix is from Leon County, and Audra Burch is from Jackson County. They bring a wealth of knowledge and experience that add new levels of expertise to our amazing team. Read more about each new consultant below.
Last but not least, I would like to thank all of the people who helped write, email, and call your local legislators on CARD's behalf. Because of the hard work and dedication of our clients, constituency boards, university government relations teams, CARD staff, and champion legislators, the statewide CARD network received our first budget increase since 2015! We can finally add and retain much-needed staff to serve our clients whose numbers have increased 62% statewide since our last increase.
Keep an eye on our website and social media accounts (@fsucard) to stay up to date on all of the events and opportunities we have coming up. Please remember, you can always request help or a specific training on the Forms tab of our website https://fsucard.com/contact/.
Take care and enjoy the rest of your summer.
Sincerely,


Welcoming Our New CARD Staff
By: Catherine Zenko
We are excited to introduce the new members of our FSU CARD consultant team. After losing three full-time consultants and enduring the hiring freeze due to the COVID-19 pandemic, we are thrilled to have the opportunity to rebuild our team with these exceptional colleagues who will strengthen our ability to provide CARD services to our 18-county region.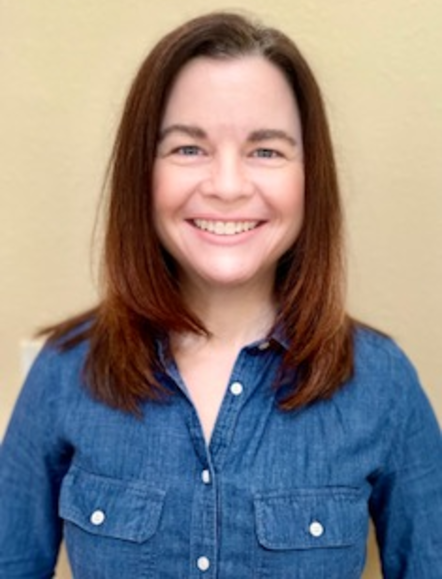 Dawn Merrix joins FSU CARD with 25 years of experience working as a Speech-Language Pathologist in Tallahassee, Florida. She earned a Bachelor of Science degree from Florida State University and a Master of Communication Disorders from Louisiana State University. Dawn has enjoyed working closely with families, educators, and other related professionals to provide interventions and recommendations; educational supports and training; and assistance coordinating referrals and services. She is excited to be working with the dynamic team here at FSU CARD.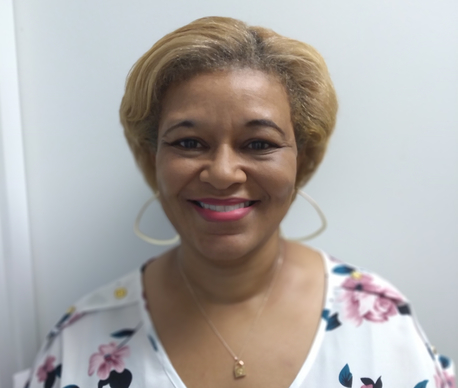 Sonia Clark-Rosier joins FSU CARD after a decade of serving as an associate dean and special education teacher with Wakulla County Schools. Sonia earned a bachelor's degree and two master's degrees from the University of Alabama, Florida State University, and Amridge University respectively. Sonia has been involved with the disabilities' community for almost 15 years, both personally and professionally. Her areas of interests include post-secondary transition planning for middle school and high school clients and increasing ASD awareness and early intervention services in the African American community and rural communities in the FSU CARD service area.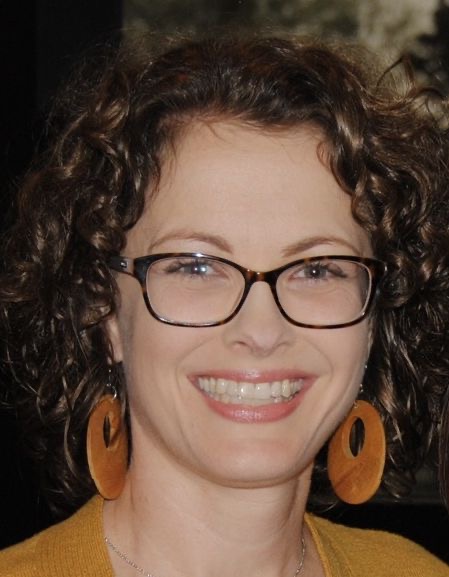 Audra Burch is a 20-year veteran Speech-Language Pathologist with a passion for people on the autism spectrum. Having mainly worked in the public schools, she is excited to join the FSU CARD team to support the students, families, and schools primarily in the central panhandle region. Audra grew up in Miami and Daytona Beach and graduated with her masters from Florida State University. She lived with her husband in Tallahassee for 22 years before recently relocating to Jackson County.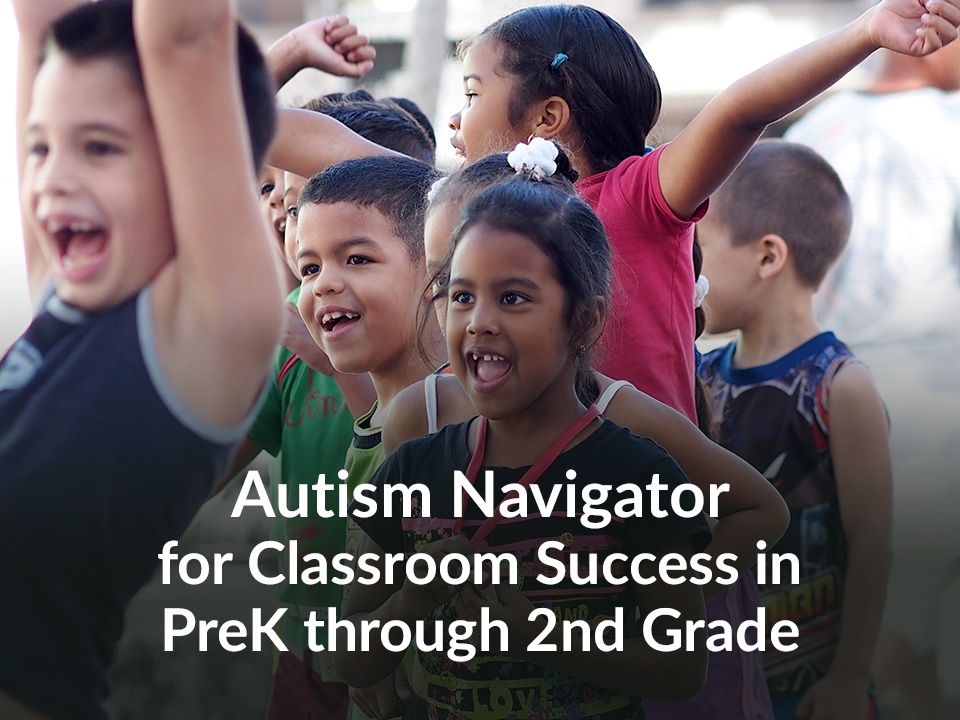 Autism Navigator for Classroom Success in Pre-K through 2nd Grade
Register today- The summer 6-week webinar series for educators starts Wednesday, July 20th!
Check out this free, 6-week webinar series from our colleagues at Autism Navigator. This series is for regular education and special education teachers, district-level personnel, speech-language pathologists, occupational therapists, early interventionists, psychologists, behavior specialists, social workers, paraprofessionals, college students, and anyone else interested in learning about students with autism.
Participants will learn about an evidence-based framework to prioritize goals using a lens of active engagement and a layer cake of teaching strategies to promote learning and positive behavior.
Click here to learn more and register: 
https://autismnavigator.com/webinar-autism-navigator-for-classroom-success-in-prek-through-2nd-grade/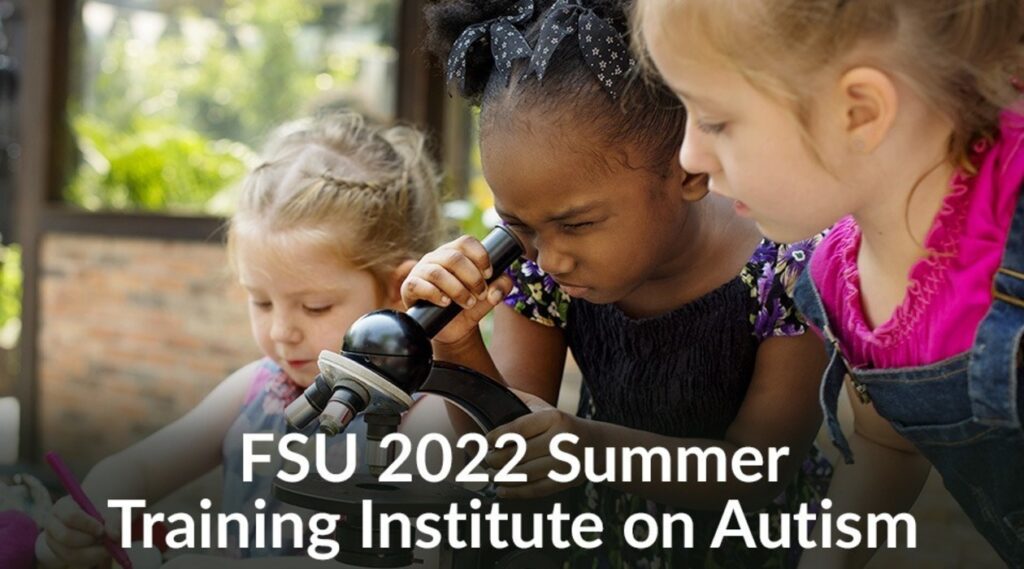 2022 Summer Training Institute on Autism Recap
By: Audra Burch
This year's 2022 Summer Training Institute on Autism hosted by the FSU Autism Institute was a remarkably great success! Over 400 attendees participated via Zoom each day representing diverse backgrounds and professions including people on the Autism Spectrum, families and caregivers, general and special educators, speech-language pathologists, behavior specialists, early intervention providers, psychologists. They hailed from a wide variety of locations in-state, throughout the United States and around the world such as Thailand, Sri Lanka, Canada, Israel, Romania, and Kazakhstan.
Day one started with an intriguing presentation from Pat Levitt, PhD who serves as the Chief Scientific Officer, Vice President, and Director of The Saban Research Institute at Children's Hospital Los Angeles. A developmental neuroscientist, Dr. Levitt presented on the foundational principles of brain and childhood development. He stressed the value of positive early experiences in the role of brain development and its lasting implications, and conversely how adverse events/toxic stress can negatively affect not only overall health, but more specifically brain development.
On day two, Dr. Karen Bearss, Associate Professor in the Department of Psychiatry and Behavioral Sciences at the University of Washington provided attendees with an innovative and practical approach to working with youth on the Autism Spectrum called Research Units in Behavioral Intervention (RUBI). Dr. Bearss serves as Clinical Director of the Seattle Children's Autism Center where she also directs the RUBI Clinic. Her presentation provided attendees with insight on the benefits of implementing evidence-based parent training programs, like the RUBI program, in order to equip parents and caregivers of children with ASD to target improving core behaviors, reducing challenging behaviors, and increasing adaptive skills.
Concluding the institute on day three was Dr. Scott Bellini, Licensed Psychologist, and faculty member with the Indiana University School Psychology Program. Dr. Bellini is also the Director of the Social Skills Research Clinic, a university-based clinic that specializes in developing and empirically validating social skills programming for youth on the Autism Spectrum. In his presentation, Dr. Bellini provided information on the importance and application of evidence-based social skills programming to help build social relationships for children and youth on the Autism Spectrum. Dr. Bellini referenced his award-winning book, Building Social Relationships.
To the excitement of the attendees, the FSU Autism Institute gave away 150 copies of Dr. Bearss' book Parent Training for Disruptive Behavior: The RUBI Autism Network, Clinician Manual (Programs That Work), and 150 copies of Dr. Bellini's book Building Social Relationships 2.
To see the full description of each day of the Summer Institute, go to: https://autismnavigator.com/webinar-2022-summer-training-institute/.

Partnership for Effective Programs for Students with Autism (PEPSA) Now Accepting Applications for the 2022-23 School Year
The Partnership Program is an initiative that supports educators' professional development in an effort to enhance the educational programs for students with autism spectrum disorder (ASD) in Florida. Every year, PEPSA and the Statewide Centers for Autism and Related Disabilities (CARD) join to select a cohort of educators and provide them with training and technical assistance to develop and implement innovative and effective practices within educational programs for students with ASD.
Participants are matched to a CARD site and professional who will mentor the educator or school staff. The CARD partner will provide support, resources, technical assistance, and training that is specific to the needs identified by the educator or school. Participation in the Partnership Program is available for a maximum of two years, consecutively or intermittently.
If you work in one of the 18 Florida Panhandle counties and interested in applying, please complete the following link 
http://doepartnership.fmhi.usf.edu/application.html
 and send your completed application to Lerena Fleck at 
[email protected]
.
Summer Bridge Activities
By: Cindy Collier
Summer can be a wonderful time to bridge learning from one school season to another. Our schedules are more relaxed, there are fewer deadlines, no homework and our learning activities can be specific to the needs and learning profile of the child. It's also a time to be creative and show that learning can be fun.
Here are a few ideas that you may use as a springboard for summer learning activities:

1. Redo a bedroom
This is a great way to get a child's bedroom cleaned out and teach functional skills at the same time. Walk the child through having a theme in décor – maybe colors, maybe based on a movie, a sport. Talk about things they can do to organize based on their schedule, their hobbies, or their needs. Calculate the amount of money it may take to paint or maybe change out linens. Nothing expensive – maybe reuse from items found at thrift store. They could learn math skills and budgeting. Get them involved and take ownership
2. Using Map skills to Chart out a Road Trip
"Are we there yet?" Road trips are perfect ways to teach math skills. In addition, they teach real life functional skills. "How long will it take to get to Aunt Libby's if we drive 60 miles per hour, and it is 300 miles away?" "How many miles will it save it we take a detour around town?" Many math skills can be taught in one road trip. Do not waste the opportunity — create ways of experiencing math.
3. Plan and purchase items for a party
Let's have a party! Create the opportunity to teach calendar skills, money, and measurement skills through this fun activity. Plan the time and date on the calendar. Use this to help the child learn how to count down the days, weeks, and months. You can even break it down further into time segments like hours and minutes. Next, plan the budget, including decorations, food, and entertainment costs. Divide these into the number of guests to determine exactly how much it will cost per person to host a party. Now, calculate the measurements. Be creative. How many balloons would you need if you want to have one balloon per yard around your driveway? What a great way to learn measurement skills! See, even a party can be educational and filled with math lessons.
Summertime is a time for family and friends. It is a time to relax and renew relationships with your children. It is also a great time to begin instilling in your child the importance of math. Try creating experiences that will show your child that math is more than a classroom activity—it is a skill they will use in everyday life.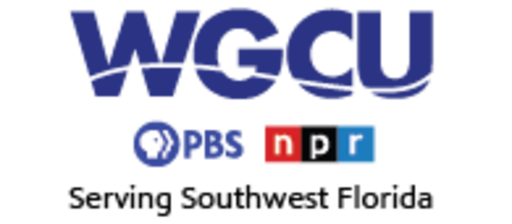 Harry Potter Book Club for Young Adults with ASD Part 2
By: Crystal Grey-Hewett
The "Move To Include" Harry Potter Book Club partnership between the Centers for Autism and WGCU for young adults with autism spectrum has continued with Harry Potter and the Chamber of Secrets.
We have been able to welcome some new members, and for this session, the Houses are GryffinPuff and SlytherClaw. There has been an enhanced focus this session on creativity, with the members designing their House crests and coming up with their own icebreakers.
In addition, the members have really engaged with the more difficult topics introduced in this book, with substantive discussions being had on the power of language and bias.
It has been a privilege to watch as these young adults come up with new ideas and viewpoints on such a famous book, as well as the friendships that have been established as they become comfortable with each other.
Client Spotlight
By: Rena Newman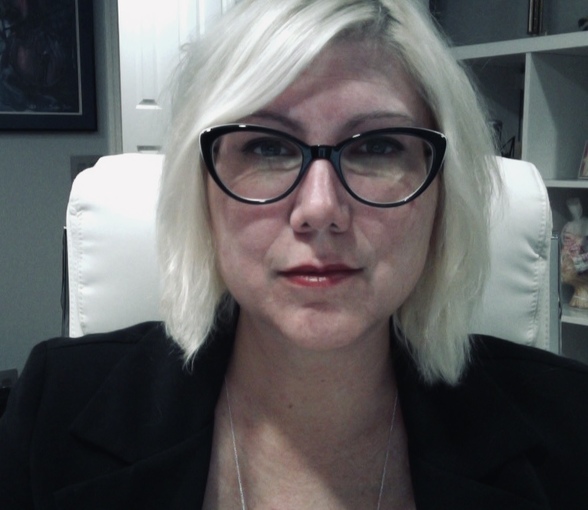 I have experienced various challenges and barriers in the workplace over the years. Some examples include trying to meet surprise expectations, such as "wearing many hats", commonly evaluated factors that felt un-natural including ability to multi-task, ability to rapidly change from task to task, and ability to make decisions quickly with incomplete information. Also, the required cross training, not being given enough time to complete certain tasks, along with feeling misinterpreted and rejected by supervisors and co-workers specifically due to my autistic traits.
These typical expectations can be challenging due to the individualized construction of autism. They seem to work against my traits and do not include my strengths. They have, at times, left me feeling as if I'm set up to fail.
Here are some ways to support and help increase the chance of successful employment for autistics like me:
HR can write a more detailed job description, outlining the specific expectations/requirements to include daily tasks and special tasks or projects to be completed on rare occasions. This way if there's an open position that requires a lot of variations within the role, we will know ahead of time.
Allowing a little more time on simple tasks such as sending email and providing a distraction free location for when an employee needs to complete on-line training. Additionally, supervisors can create a more detailed list of day to day expectations, so the employee doesn't have to rely on implied messages and instructions.
If the employee is excelling in other areas, there can be an alteration made to their role, where the employer is utilizing more of the employee's strengths, skills, and talents.
Employers can offer more specialized positions that enable an employee to freely use specific autistic strengths and advantages, such as hyper focusing in their role.
More companies and organizations can join the Neurodiversity@Work Employer Roundtable community or if there is an equity review diversity recruitment, they can include autistics.
Possible autism awareness training offered as part of diversity training once more research is established. The research needs to focus on decoding our neurotype, possibly sub-types, for a more in-depth understanding of our communication and processing system; distinguishing deficiencies, differences, and strengths/advantages. The research also needs to be conducted on more adults and females. The combination of research and training may lead to a decrease of misinterpretation and reduce workplace discrimination, bullying and firing. In my experience, when others have more knowledge/awareness, there can be an increase of inclusion and acceptance.
Let's continue with more conversations, ideas, support, and advocacy, while continuing hoping and believing for improvement.
Rena Newman is a published writer and singer-songwriter/audible artist. Ms. Newman is in the process of setting her up her own blog called 'Autism Chili' that will showcase her writing and experiences.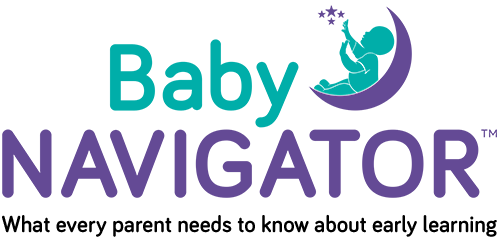 The Executive Director of FSU CARD and Director of the College of Medicine's Autism Institute, Dr. Amy Wetherby, launched a new website, BabyNavigator.com, that walks parents through early childhood development and alerts them to early signs of autism.

Learning to Cook for Adults with Autism
Summer is a great time to think about what we put in our bodies and how it benefits us. Nutrition education and food preparation are skills that benefit everyone, and learning to properly feed the body for health is a lifelong journey. This article explores what nutrition education looks like for adults with autism, and includes some cool recipes.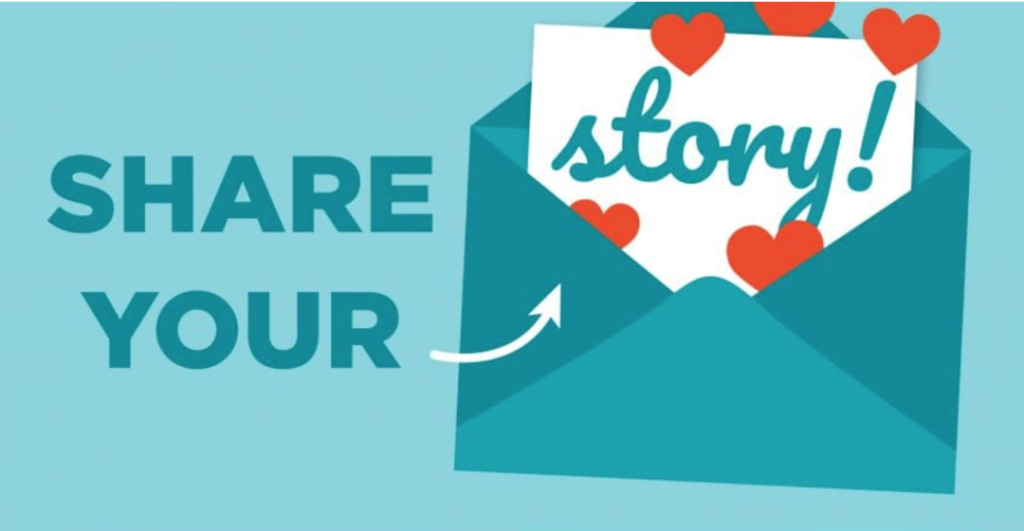 Share with CARD
FSU CARD is continuously looking for clients who would like to share their art, writing pieces, or success stories in our quarterly newsletter. If you are interested in sharing for our next issue, please send a message and image electronically to FSU CARD (
[email protected]
). All art or writing pieces should be titled. Select submissions will be chosen for each edition of the newsletter; artists and authors will be notified if their article is chosen.